Tips for Affordable Cruises

EUROPE: LAND VS. SEA
If you're looking for value—especially in Europe during the high season—doing the math can be revealing.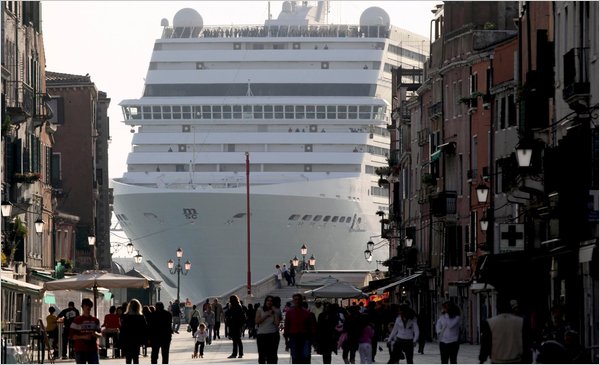 A ship is both transportation and hotel; you bond with fellow travelers as you sail from city to city—all without the hassles of packing. The drawback: many ports are well outside the city center. Ultimately, what matters as much as cost is traveling in the style that suits you best.
Venice by Land
$150: Dinner for two at Chip's Club in the Cipriani Hotel.
$210: Lunch for two at Hotel Danieli rooftop
$200: A four-hour guided tour for two
$652: A night at the Bauer Hotel
Total: $1,212
Venice by Sea
$168: A ship-arranged walking tour for two that includes Scuola Grande di San Rocco and Campo San Polo.
$909: An overnight in Venice, including a three-course lunch and dinner (with wine), aboard the Seaborn Spirit on its 11-day Adriatic cruise.
Total: $1,077
Finding an affordable cruise is a (salty) breeze… If you try these tricks.
Use an experienced cruise agent. Choosing a cruise is like buying a bespoke suit: to get the right fit, you need an expert. Cabin location can be crucial, especially on a large ship, and even similar-looking itineraries can yield vastly different experiences. Once you've narrowed your options to specific lines, look on their websites for the names of "preferred'' agents. Most won't charge a fee, though it could be worth it.
Book early. Yes, last-minute deals may be tempting, but your choices will be limited. Instead, look for sales eight to 12 months out, especially during "wave season," from January through March. Many lines offer significant discounts and free cabin upgrades.
Go all-inclusive. Large ships charge additional fees for beverages, shore excursions, specialty onboard restaurants, and gratuities—meaning the final tab can be double the base fare. Meanwhile, luxury lines such as Silversea, Seabourn, SeaDream, and Crystal have become more value-conscious by offering all-inclusive rates. Regent Seven Seas Cruises even bundles in airfare and unlimited shore excursions. The price of a luxury cruise may still be higher, but you'll have a more intimate ship and a better staff-to-guest ratio.
Snag a package. Some large-ship lines are taking a page from the all-inclusive playbook with package deals on wine, dining, and excursions that can represent a 10 to 25 percent savings over à la carte purchases. Norwegian Cruise Line, for example, packages three dinners in specialty restaurants for just $47 per person.
Get a soda pass. Most ships sell unlimited soda cards; the current price is about $4.50 per person per day for those under age 18 and $6 for passengers over 18. Even with the 15 percent mandatory gratuity, this is a deal if you're traveling with kids.
Sail the off-season. Book between the holidays (on many lines, early December prices are among the lowest) and on repositioning cruises to score bargain fares.
From February 2013 By Jane Wooldridge in T+L Magazine
For information on traveling to this locale and or additional information on this or any other article please contact us
here.
Or call tel: +1. 305.445.7791