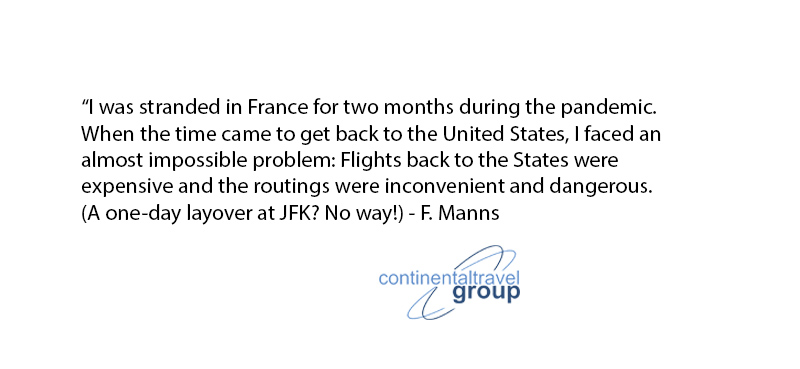 Why You Need A Travel Advisor For Your Post-Pandemic Vacation

If you're planning a trip after the pandemic, maybe it's time to call a professional. A competent travel agent can help you navigate the strange new world of airlines, hotels and rental cars. Travel is radically and almost unrecognizably different after the COVID-19 pandemic. That is why you need a travel advisor, say experts.

A travel expert can handle any emergency that may arise when you're on the road — everything from a missed flight connection to a hotel that closes unexpectedly. But remember, an online travel agency is not the same as a travel agent.

"Try dealing with an online travel site at 10 p.m. when your connecting flight gets canceled while you are in flight," says consumer expert Chip Bell. "Travel sites are filled with data and information; travel agents are filled with wisdom and ingenuity."

It's a discovery a lot of travelers made at the start of the pandemic.

As travel restrictions were just starting around the globe, many of our advisors were receiving phone calls and emails from travelers who had booked with online companies and were not getting a response from them. Yet our advisors were answering the phones and returning emails. So our advisors helped travelers who were not even clients get their trips rescheduled or get them on flights back home.

You may need a travel advisor for your next trip. Here's what a professional can do.

What can a travel advisor do for you?

So why do you need a travel advisor for your post-pandemic trip? Here are 10 thing we can do for you:

1. Understand where you're going

2. Prepare you for the travel experience

3. Screen every travel company

4. Hold your hand

5. Help you navigate the rules of travel

6. Be available to you 24/7

7. Leverage insider contacts to help you have a smoother trip

8. Go the extra mile to get you home

9. Solve your problems

10. Help you secure a no-hassle refund if necessary

A travel advisor is one of the best tools that travelers can use in a post-pandemic time. As the world reopens, a well-connected advisor can save the average do-it-yourselfer not only money but time."

We prepare you for the travel experience

Airlines and hotels are so eager for you to book another trip that they will promise you the world. From squeaky-clean cabins to "touchless" check-ins, travel companies are cranking up the hyperbole. As experienced travel advisors we can help you cut through the PR. One client who wanted to go on a 10th-anniversary golf trip to Ireland in June. We knew that was unrealistic as they wanted to postpone it to September. Very unlikely, we thought. So they settled on an 11th anniversary trip in 2021. That's how we work, it's about long term relationships.

We understand where you're going

If you're traveling somewhere, chances are there's a travel professional who knows the area well. The world is not going to open up all at once. Most travel advisors spend significant time researching and becoming experts on specific destinations. Their detailed knowledge of countries, cities and processes will be critical for anyone looking to travel while restrictions are still in place.

We screen every travel company

Another reason you need a travel advisor: Your product will be thoroughly vetted. You can be assured the products and services we are recommending are top quality. Our affiliation with providers means that we stringently vet all products or services we recommend; our travelers are assured that we are offering only the best of the best.

We hold your hand

Even the most experienced — and fearless — travelers may be worried about taking the next trip while the coronavirus is still making the rounds. We've received more new client requests from travelers who are concerned about navigating travel during and after the pandemic. An experienced travel agent can soothe those worries by offering sound advice on destinations, travel requirements, quarantine measures in place, and safety. We also know which vendors have been reliable at refunding clients — and which have resisted providing cash refunds and tried to foist future credits on travelers.

We help you navigate the rules of travel

And that includes some of the more arcane rules and restrictions on your airline ticket or hotel reservation. We've been asked questions on insurance, cancellation, and refund policies more than ever. Insurance and cancellation policies used to be an afterthought for many travelers. Our clients have shifted their focus from the bottom line cost of a trip to ensuring they are protected if they need to cancel or change their trip dates. As competent travel advisers we are expert on the rules and can help you navigate the ins and outs of post-coronavirus travel.

We're here for you 24/7

You also need a travel advisor because when you have one, you're not traveling alone. A travel advisor is always there for you. And when your agent isn't working, there's almost always a 24/7 service number you can call. That is one of the things that really distinguishes a travel professional from the internet. Whether it's a flight cancellation, problems at a hotel, or unexpected illness, a travel professional can quickly jump in and assess the situation and then navigate all the roadblocks to find a solution. And that has never been more apparent than during this current crisis.

We advocate for you

As travel advisors we don't just make bookings; we advocate for you. And now more than ever. We are an advocate for our clients and essences we are our clients insurance policy. You can actually talk to in order to have your needs met. We walk with you until you return home to ensure a successful trip.

We leverage insider contacts to help you have a smoother trip

We have relationships with hotel general managers to make sure our clients receive the best rooms and all the small details are taken care of. Our agents can work around cancellation policies to get a refund if your plans change — or get you a room upgrade.

We go the extra mile to get you home. We are problem solvers

That's never been more important than now, when the travel industry is filled with problems. Will another airline go bankrupt? When is the next cruise line going under? We're problem solvers, our ability to listen and to lead with empathy is unmatched by the transactional nature of online booking platforms. We firmly believe that people make travel better. We have evacuated clients from places that seemed impossible, including chartering an aircraft and negotiating with a closed airport to reopen so that the aircraft could land.

We can help you get a no-hassle refund if necessary

Our agents pay attention to the details. It is never a transaction for us. In the COVID situation, our expertise and attention to detail is of even more value. We take the pain of uncertainty from our clients by taking care of all their cancellations swiftly and putting their refund amount back in their bank. A good agent can make sure that you get your money back. No need to spend hours on hold with your airline, hoping to reach someone. We have that covered.

Traveling during the pandemic is not easy, but a competent travel advisor can assist.

How a travel advisor saved me
I was stranded in France for two months during the pandemic. When the time came to get back to the United States, I faced an almost impossible problem: Flights back to the States were expensive and the routings were inconvenient and dangerous. (A one-day layover at JFK? No way!) – F. Manns

I called my travel agent, who patiently listened to my concerns and quickly found the best routing home — a more direct flight from Nice to Los Angeles via Paris. But she also gave me the best advice ever.   – Jean Martin
Peace of mind is the biggest thing we can offer. We are constantly monitoring our clients' trips and reaching out to them with updates. We have resources and contacts that you won't find when booking your vacation online, not to mention the fact that our clients can reach us via phone or email.
At a time like this, you want to have access to a real person 24/7 who knows the business inside out, can help you navigate a cancellation or another outbreak, and has the best connections. That's why you need a travel advisor for your post-pandemic trip.
For information on traveling to this locale and or additional information on this or any other article please contact us
here.
Or call tel: +1. 305.445.7791