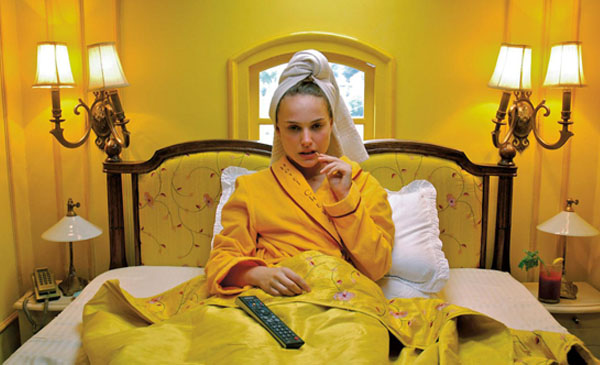 Hotel Allure – The Haunts of Artists, Writers and Film-makers

Hotels have long been favoured subjects – and haunts – of artists, writers and film-makers. What makes them so alluring?

As her marriage was breaking up, the writer Joanna Walsh got a job as a hotel reviewer, staying in hotels for weeks on end, a ready-made escape from her crumbling life at home. In a new book, she looks at the myths surrounding these mysterious and transitory buildings. Hotel, Walsh explains, "was once a word for home, but at some point the term took a turn."

The English word 'hotel' traditionally referred to the residence of a nobleman, a town hall or similar grand official building. It suggested grandiosity, and when it was first used in the way we recognise it today it denoted a high-quality guesthouse, a step-up from a tavern, inn or public house.

The lure of the hotel was "interlinked with the desire to flee one's bourgeois home," explains André Naffis-Sahely, writing specifically about the turn of the last century. "Whereas the 'home' stood for tradition, the hotel was a paragon of modernity, providing a perfect means for the studious observer to slice through class, racial, and gender barriers."  As such, hotels have always been the favoured haunts of those most keen-eyed of observers: the novelist and the film-maker.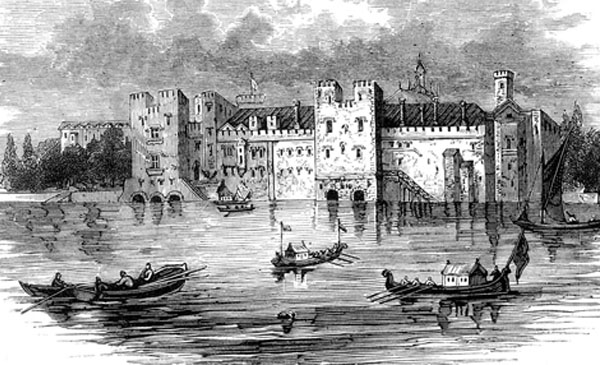 The 13th Century Savoy Palace enjoyed fewer restrictions than the rest of London (Credit: Timewatch Images/Alamy)
For information on traveling to this locale and or additional information on this or any other article please contact us
here.
Or call tel: +1. 305.445.7791
Taking liberties
In 1929, the English writer Arnold Bennett wrote in his diary: "The big hotel de luxe is a very serious organisation; it is in my opinion a unique subject for a serious novel; it is stuffed with human nature of extremely various kinds."
Having used the hotel as his subject in the 1902 novel The Grand Babylon Hotel, Bennett tackled it again in Imperial Palace (1930), a novel published just two years before Edmund Goulding's Oscar-winning Grand Hotel, a film that used the venue as a way to explore multiple characters' stories all playing out in close proximity to one another. Bennett's fictional hotel was based on the famous Savoy – today still one of London's most opulent establishments.
A stay in a hotel is an escape from reality
Built in 1889, the ground on which the Savoy stands has a much older history. In the 13th Century it was the site of the magnificent Savoy Palace, a royal residence, explains Melvyn Bragg in his new novel Now is the Time, the charter of which "declared it to be a law unto itself."  Different regulations operated there compared to the rest of London: "It enjoyed a special jurisdiction known as the Liberties of the Savoy." These early, legally sanctioned freedoms were replicated years later in the psychological liberties offered by the modern hotel.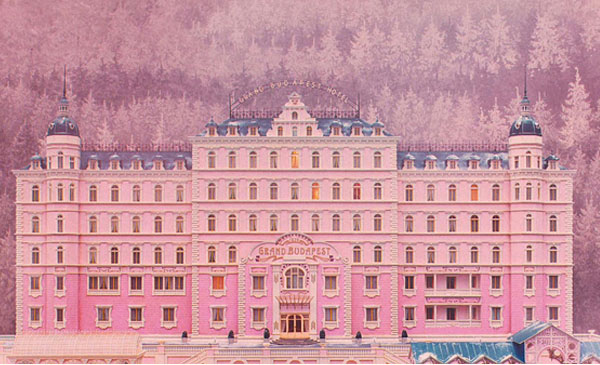 Wes Anderson's The Grand Budapest Hotel was inspired by the writings of Stefan Zweig (Credit: 20th Century Fox)
Sweet escape
Like many transitional spaces, a hotel is also both an actual setting and a psychological one. A stay in a hotel means both a break from everyday domestic chores – those of us who don't have staff at home can experience the luxury of being waited on hand and foot. And with the emancipation from the daily grind comes something of an escape from reality.
Take, for example, Viennese writer Stefan Zweig's novel The Post Office Girl, in which a young postmistress is plucked from ordinary life Cinderella-style by a rich American aunt who establishes her as her companion at a lavish spa resort in the Swiss Alps. The hotel she finds herself in is a very real space, but it also exists as something of a dreamscape, a setting for a fairy-tale that cannot last, as, eventually falling out of her aunt's favour, the girl finds herself back behind the counter at the post office where she started.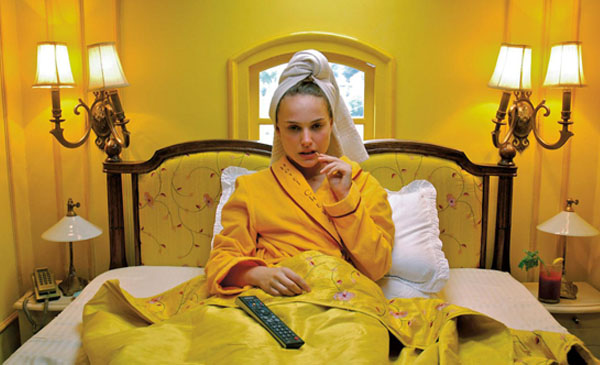 In Anderson's short film Hotel Chevalier, a man holes up in a Parisian establishment in an attempt to avoid complications in his life (Credit: Fox Searchlight Pictures)
Even for those more financially secure than the poor post office girl, a hotel offers its guests somewhere to hide. In Wes Anderson's The Grand Budapest Hotel (a film inspired by the writings of Zweig, The Post Office Girl included), Madame D is overcome with feelings of dread when the time comes for her to leave the safety net of the hotel –and with it the sympathetic attentions of Gustave H, its legendary concierge – and return home. And in Anderson's short film Hotel Chevalier, a man holes up in a Parisian establishment in an attempt to avoid complications in his life.
A hotel offers its guests somewhere to hide
Such escape was played out in real-life in London during the Second World War when, as Matthew Sweet explains in his book The West End Front, it was to central London's grand establishments that Europe's exiled aristocracy retreated, both physically and mentally, drowning out the sound of the air raids and the sorrows at what they'd lost with expensive excesses. 
American artist Joseph Cornell's Hotel series plays with the same tension between the real and psychological luxuries and freedoms associated with the grand old European hotels on which the fictional Budapest was modelled.  Works such as Untitled (Hotel Family, Parmigianino, Bel Antea Variant) (c 1950) and Andromeda: Grand Hôtel de l'Observatorie (1954) play with the notion of the hotel as a metaphor for the romance of travel (particularly poignant given Cornell himself famously never left the US), as well as figuring it as a microcosm for the wider world.
Hotel citizens are children of the world – Joseph Roth
It's inevitable, of course, that hotels should be associated with travel and seen as melting pots of multiculturalism. As the Austrian writer Joseph Roth declared, hotel citizens are "children of the world". "Continents and seas, islands, peninsulas and ships, Christians, Jews, Buddhists, Muslims and even atheists are all represented in this hotel", he wrote. "The cashier adds, subtracts, counts and cheats in many languages, and changes every currency. Freed from the constriction of patriotism, from the blinkers of national feeling, slightly on holiday from the rigidity of love of land, people seem to come together here."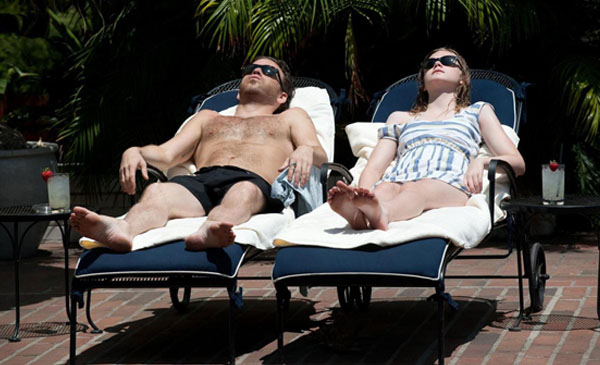 Coppola's anti-hero in Somewhere is a successful actor struggling to find meaning in his life at the glamorous Chateau Marmont (Credit: Focus Features)
Heartbreak hotel?
Today hotel living can still suggest glamour; from LA's famous Chateau Marmont, a noted haven for celebrities, in Sofia Coppola's film Somewhere (2010), to Eloise who, in the children's books written by Kay Thompson, lives "on the tippy-top floor" of the New York Plaza.
But the decadence of hotel existence isn't without its loneliness – Coppola's anti-hero in Somewhere is a successful actor struggling to find meaning in his life, and Eloise, as entertainingly mischievous as she is, never sees her parents, let alone other children. And Coppola famously explored the loneliness of hotel life in her earlier film Lost in Translation (2003), in which an ageing movie star and a neglected young wife form an unlikely bond while staying at the same Tokyo residence.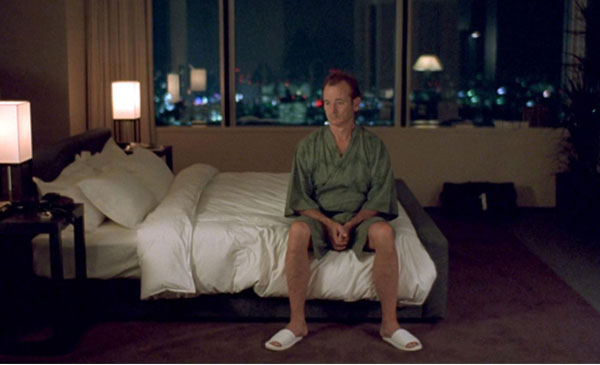 Sofia Coppola explored the loneliness of hotel life in her film Lost in Translation (2003), which starred Bill Murray (Credit: Focus Features)
Hotels are for those who understand performance: ghosts, actors, women – Joanna Walsh
At the other end of the social spectrum, Delbert Mann's film Separate Tables (1958) shines a light on the forlorn lives of guests in a guesthouse in Bournemouth in the south of England, tapping into the tradition of solitary, long-term mid-range hotel living that those slightly down-on-their-luck found themselves resigned to – as illustrated by authors from Jean Rhys in Good Morning, Midnight (1939) to Elizabeth Taylor's Mrs Palfrey at the Claremont (1971). Recently this was given a rather macabre twist in Yorgos Lanthimos's The Lobster, a film set in a dystopian near-future in which singletons are sent to a hotel where they're given 45 days to find a partner before unsuccessful candidates are turned into an animal of their choice and set loose in the nearby forest.
Artists in residence
People can live in hotels, but fundamentally hotels are never homes. "I have been here for long enough," Roth writes. "If I stayed longer I would be unworthy of the great blessing of being a stranger. I might degrade the hotel to a home if I no longer left it unless I had to. I want to feel welcome here, but not at home. I want to be able to come and go. I prefer to know that a hotel is waiting for me here." And even Joanna Walsh eventually made her way back home, a bout of illness forcing her to abandon her nomadic existence in favour of something more familiar. Who then, can live in a hotel?
The word 'luxury' used to mean 'lasciviousness, lust'
"Hotels," Walsh says, "are for those who understand performance: ghosts, actors, women." There's always something of a stage set about them. Check in for your stay and you can leave your life and identity behind you in the process. People conduct illicit affairs in hotels precisely for this reason – the word 'luxury' used to mean 'lasciviousness, lust'. Perhaps that is why a 'mini-break' in a boutique hotel is code for a dirty weekend – they're spaces that offer not just anonymity, but also complete reinvention; the possibility to be someone other than yourself for the duration of your stay. "I'm here to try on someone else's version, not of my life, but of an ideal life," Walsh writes.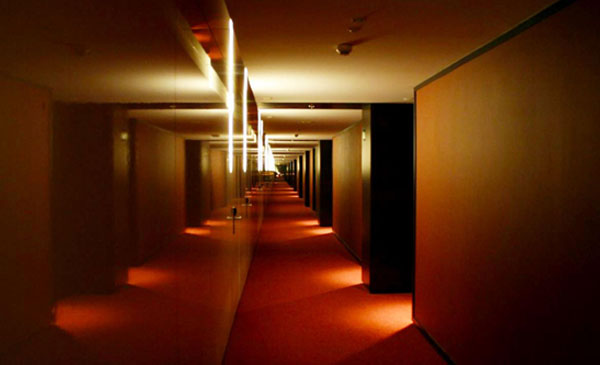 A 'mini-break' in a boutique hotel is code for a dirty weekend – they are spaces that offer anonymity (Credit: Bong Vongo/Flickr/CC BY-SA 2.0)
Writers, artists and musicians have long found hotels ideal spaces in which to pursue their work without distraction. Both Chateau Marmont and the Chelsea Hotel in New York boast impressive guest lists of creative luminaries. Maya Angelou famously always wrote in hotels, keeping a room at one in every town she lived in. "I insist that all things are taken off the walls," she explained in an interview with the Paris Review. "I don't want anything in there. I go into the room and I feel as if all my beliefs are suspended. Nothing holds me to anything. No milkmaids, no flowers, nothing. I just want to feel and then when I start to work I'll remember."
This is just one of the many contradictions of the hotel; how it can be both a blank slate and a teeming mass of inspiration. Hotels are places to be seen and not be seen, not only in terms of the architectural structure but the different quarters, and by extension worlds, inhabited by the guests and staff. The stories that go behind the scenes, exposing those aspects of hotel life that Arnold Bennett described as its "dirty secrets" are, of course, another story entirely.
By Lucy Scholes