Eisbach – European River Surfing Championships

At the Eisbach, a small channel branching off the Isar River in downtown Munich, people in wetsuits line the banks, waiting patiently for their turn in one of the world's more unlikely surfing capitals.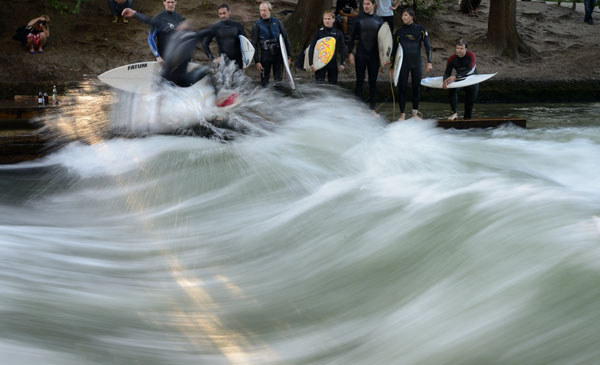 Munich is 500km from the coast and more than 1,100km from any surfable ocean breaks. But an ingenious band of surfers has not let the absence of conventional waves put them off. The Bavarian capital is the birthplace of a new sport: river surfing.
In August 2012, Munich hosted the second European River Surfing Championships on an outdoor artificial wave built next to the city's airport. It was part of a three-week Surf and Style event that was sponsored by Lufthansa and had the full backing of the local authorities – a far cry from the early days of river surfing. The sport started in the 1970s, with a small group attaching tow-ropes to the bridge that crosses the Eisbach near the southern edge of the Englischer Garten park. They would hold the ropes, try to stand up on door-like planks and attempt to emulate the ocean surfers that they had seen overseas.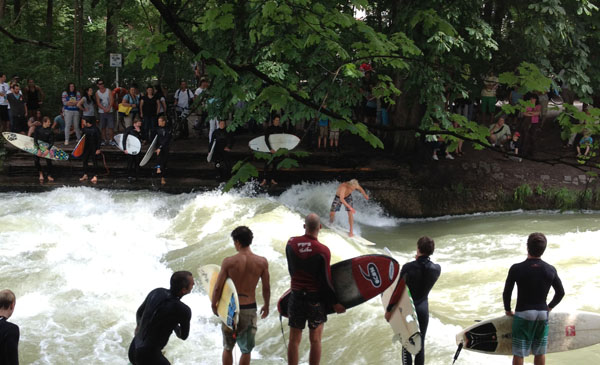 It did not take long to realise that the ropes were unnecessary. The fast flowing water of the Eisbach ploughs into a deeper section of the river that barely moves at all, creating a consistent, albeit dangerous, wave effect. Signs warn inexperienced river surfers not to attempt surfing – rocks, strong currents and lack of space combine to make getting in the water perilous. Ocean surfers have to learn new skills too: there is no time to get up and let the wave approach – surfers have to be riding the second they hit the water – and movement is lateral rather than up and down the break.
Jon Ruppersberg, who repairs boards at the Santo Loco surf shop in central Munich, said river surfing requires a different type of board. "A long board is usually perfect for beginners, but because the river is so narrow, you have to start the next turn as soon as you finish the last." Consequently, many of the boards on sale at Santo Loco are specially made by a manufacturer in Salzburg, Austria, designed to be short, relatively broad and durable. Some also have Kevlar edges to prevent damage from regularly crashing against the Eisbach's stonewall banks.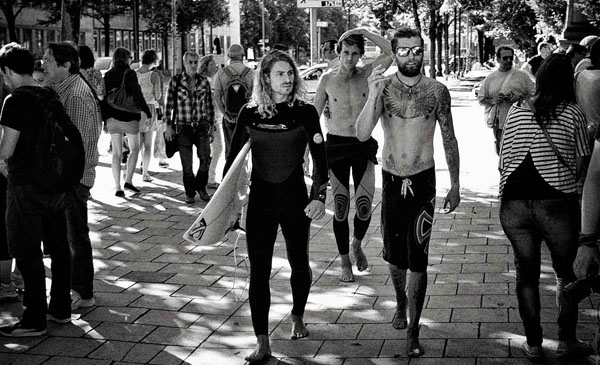 Partly because of the dangers, surfing the Eisbach was illegal until 2010. "You would quite often see surfers running through the Englischer Garten being chased by policemen," Ruppersberger said. "[They] regularly had to pick up their boards from the police station."
Surfers also tried to keep their activities quiet, stopping whenever anyone arrived with a camera. But regular surfer Quirin Stamminger said this started to change around five years ago. "The internet really changed things," he said. "With Facebook and YouTube, more people found out about it, and more people wanted to try it." The surfers stopped trying to hide, and instead used the publicity to get support for the legalisation of their hobby. In 2010 the City of Munich bought the land surrounding the wave from the State of Bavaria and agreed to take responsibility for what happened there, legalising the sport.
These days, Stamminger said no one really knows how many surfers there are in Munich. "There are probably around 1,000 active surfers, while 10,000 in Munich will have tried it at some point. But it's a very loose scene," he said. "There's no one place that's a surfer hang out. People meet at the Eisbach or the Flosslände wave near the zoo, then go back to their normal lives."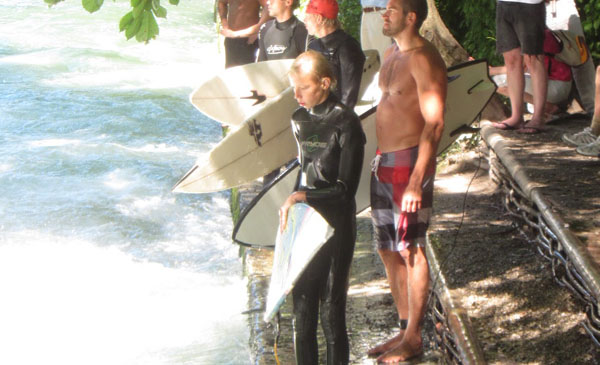 The surge in popularity is not without its problems though. "The scene has changed a lot," Stamminger said. "Even the guys who started three years ago realise how annoying it is when they have to wait behind 25 other people."
There is also the increased risk of someone getting injured. "Something will happen, I'm 100% sure," Stamminger said. "It's a dangerous sport; there is always an element of risk. When it does happen, though, will the city shut us down?"
Slowly, the sport has spread beyond Munich in a somewhat disorganised manner. In most instances, it is a small, independent group discovering river waves in rural Europe or Canada. But other cities are catching on. Innsbruck in Austria is attempting to create an artificial standing wave where the Inn and Sill rivers meet, but construction has not yet been successful. The will is there, but the science still needs some work. In Montreal, however, two natural waves on the St Lawrence River are pulling in the surfers. Local company Kayak Sans Frontieres has even started offering surf lessons. It's a long way from a few hardy souls trying to hang on to a rope in Munich's Englischer Garten.
Dominik Bindl/Bongarts BBC
For information on traveling to this locale and or additional information on this or any other article please contact us
here.