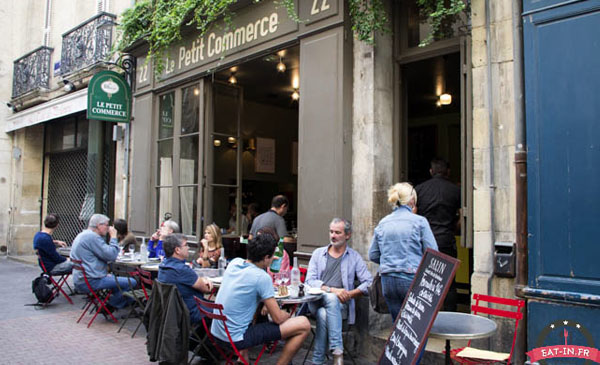 Bordeaux | A great fusion of big city life but contained in a village-like atmosphere – Gordon Ramsay

Bordeaux is the wine capital of the world, renowned for its rich history, generated by 800 years of viticulture, commerce and trade. But these days, there's much more to this city than lush vineyards and delicious grapes.

It's a great fusion of big city life but contained in a village-like atmosphere – Gordon Ramsay

In less than a decade, large-scale urban planning has transformed this once-rural town in southwestern France on the Garonne River into a cosmopolitan destination de choix. It is now one of France's leading hubs for both tourism and business.

For information on traveling to this locale and or additional information on this or any other article please contact us

here.

Or call tel: +1. 305.445.7791

With more than 5.5 million visitors a year, plus 85 congresses and 400 professional events held in 2015, this city is humming with a new surge of energy.

Adding to this energy is recent news from high-speed rail service Eurostar, which is looking at opening a non-stop rail line direct from London to Bordeaux, potentially letting travellers make the trip in four and a half hours. If these plans go ahead, the new line will no doubt be popular both with tourists and those looking to do business there.

Voted European Best Destination in 2015, France's sixth largest city is also at the epicenter of a culinary boom. With the recent arrival of prestigious Michelin-starred chefs and young talent reinventing traditional southwestern cuisine, innovative bistros are popping up all around town.
"Bordeaux really has it all, so we're really spoiled," said chef Stephane Carrade of Le Petit Commerce. "Besides the vineyards, we're near the Atlantic, the estuaries, the Pyrenees and the Perigord region, which means all the very best variety local products. But what I like the most about living in the centre of town is the atmosphere, the southwestern spirit. This city is more vibrant than ever, but people still take the time they need to enjoy themselves."

The spike in tourism has driven growth in jobs according to Amelie Dechenais, director of business conferences at the Convention Bureau. "The city now has a brand new convention centre (Palais des Congres) and is currently modernising the 80,000-sqm Exhibition Center (Parc des Expositions), which represents a 70m-euro ($77m) investment. "By 2018, we also expect to have 800 more hotel rooms for conferences and trade shows," she said.

Another draw is the climate, similar to northern California, which boasts 300 more hours of sunshine than Paris.

However, by 2017, Parisians will be able to hop aboard a morning train to Bordeaux from the Gare Montparnasse and arrive only two hours later instead of three, in time for lunch on a sun-dappled bistro terrace.

This high speed train service, the LGV Sud Europe Atlantique, means the city will be even more accessible to the international rail network across Europe. The project includes a rejuvenation of the train station, Gare de Bordeaux-Saint-Jean, soon to be France's second-largest passenger terminus. By 2017, visitors will see complete transformation — a new business centre, office spaces, homes, boutiques and a hotel complex.

But for now, the city's pride and joy is the long-awaited June 2016 opening of the Cite des Civilisations du Vin, the Bordeaux Wine and Trade Museum. Situated in the newly revitalized Bassins a Flots district, the building will reshape Bordeaux's skyline — a shimmering undulating contemporary structure of wood, glass and aluminum structure.
Bordeaux Appeal
Beyond all the impressive urban expansion, the city's transformation, which began nearly a decade ago, has contributed to Bordeaux's douceur de vivre, a pleasant gentle rhythm of life.
Classified as a UNESCO World Heritage Site since 2007, Bordeaux first underwent a major facelift when the current mayor and former French Prime Minister, Alain Juppe launched a campaign to clean and restore landmark architecture. Today, there are more than 350 Unesco-listed monuments — a mix of medieval, Renaissance and impressive eighteenth-century gems — making Bordeaux the largest urban World Heritage site in the world. Another draw is the climate, similar to northern California, which boasts 300 more hours of sunshine than Paris.
"They did a fantastic job of renovating the old quarters like in the Grosse Cloche neighbourhood," said long-time resident, Nadine Pocci, owner of the Belair Saint-Georges vineyards in the nearby Saint Emilion region. "When my husband and I first moved to Bordeaux in 1979, all the buildings were covered with black grime. It was sad and dark. But now everyone is realising what a great city it has become — all you need to do is look at the climbing prices of real estate."
Take, for example, the hip northern section of the city, Les Chartrons, where the streets are now lined with trendy vintage boutiques, cafes and antique shops: over the past three years, prices have risen 20% for new residential developments, and now sell anywhere between 4,500 euros to 6,500 euros ($4,890 to $7,060) per square metre.
Research opportunities in aerospace, optic lasers, pharmaceuticals and cutting-edge biotechnology may also be one reason why the city attracts more than 10,000 new residents each year, with 40% between 20 and 40 years old.
What is particularly appealing about Bordeaux, home to 80,000 students, is the relaxed vibe. Visitors should take full advantage of the intensive greening of the leafy flower-lined quays on the left bank, now a veritable haven for joggers, cyclists and strollers. Aside from the future Cite du Vin, the ambitious reinvention of the Bassins a Flots district — a 700,000- sq-mile stretch of docklands — includes the transformation of disused warehouses into riverside cafes and restaurants and the construction of more than 5,000 new apartments.
"What makes Bordeaux so unique is pretty much indescribable. The weather, the culture, the food, the football — all high marks in my book," said Michelin-starred British celebrity chef Gordon Ramsay, who recently took the helm of the one Michelin-star restaurant, Le Pressoir d'Argent, at the InterContinental Bordeaux – Le Grand Hotel. "It's a great fusion of big city life but contained in a village-like atmosphere."
Merignac airport offers flights to more than 80 worldwide destinations including Rome, Barcelona and Lisbon, and is served by 26 airlines, including low cost flights from London. The 30-minute shuttles to the city centre run every hour, seven days a week, starting at 06:00 for a fare of 7.20 euros.
With three ultra-modern tramway lines, numerous buses, and bicycles for rent, Bordeaux's sights are easily accessible.
Visitors can purchase city passes that include three days of transport, plus museum visits for a variety of packages from 23 euros-33 euros ($25 to $35)
Across from the Opera House, on the Place de la Comedie, the newly branded Intercontinental Bordeaux — Grand Hôtel de Bordeaux & Spa — is an elegant five-star 18th-century hotel with historic interiors and a recently opened spa. Located in the heart of the city, the rooms have river views and are a 10-minute stroll from the pretty pedestrian cobblestone streets of the vieille ville and restaurants. Or, for business on a budget, the lakeside 166-room Pullman Bordeaux Lac Hotel is a mid-range hotel located in the Bordeaux Lac district near the conference centre (and for sports fans, Bordeaux's brand new stadium), a 15-minute tram ride from the city centre.
On a narrow street in Old Town, popular ultra-fresh seafood institution, Le Petit Commerce, was recently taken over by Michelin-star chef Stephane Carrade. The menu features everything from fish soup (12€) and platters of local oysters(a dozen 20-27€) to grilled lobster (35€) and squid (28€)with homemade creme brulee or rice pudding (8€) for dessert. If you're looking for an all-day rapid-service but moderately-priced gourmet meal, head to the newly opened 80-seat brasserie, Quatrieme Mur at the Opera House, where French TV celebrity chef Philippe Etchebest dishes up simple regional specialties like duck parmentier — a southwestern version of a shepherd's pie.
In June, Bordeaux will host UEFA Euro 2016 soccer tournament games, followed by the city's annual 10th Wine Festival (La Fete du Vin), held on the grassy banks of the Garonne, an event that attracts more than 400,000 professionals and visitors. Among the most beguiling museums is the Institute Culturel Bernard Magrez, hidden away in a quiet residential neighborhood, featuring cutting edge contemporary art housed in elegant eighteenth-century stone mansion. You can also spend the day on a riverboat cruise, or escape to one of the most dazzling white sand beaches in Europe, Dune du Pilat, near Arcachon, which has 10 metre dunes and a panoramic view, and is only an hour's drive by car or bus.
For information on traveling to this locale and or additional information on this or any other article please contact us
here.
Or call tel: +1. 305.445.7791