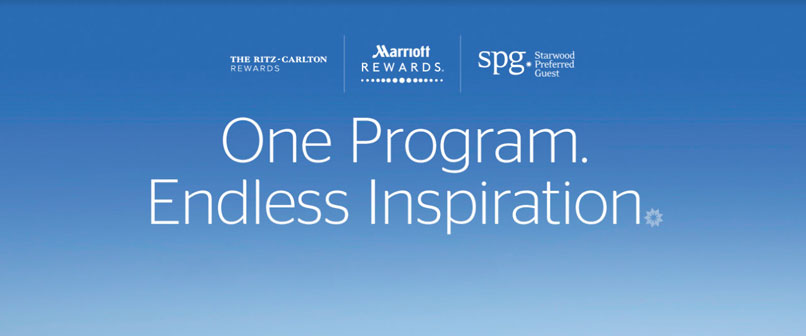 Marriott, Ritz-Carlton, and Starwood Officially Combine Loyalty Programs

The major move makes it easier to earn points for free nights at more than 6,700 hotels.

It's a done deal: Travelers who'd been in the Starwood Preferred Guest and Ritz-Carlton Rewards loyalty programs are now Marriott Rewards members. The world's biggest hotel brand wrapped the long-promised combination the three programs after setting an August 18 deadline for the cutover. "The programs now


For information on traveling to this locale and or additional information on this or any other article please contact us

here.

Or call tel: +1. 305.445.7791

"The programs now operate under one set of unified benefits and one currency spanning the entire loyalty portfolio of 29 brands and more than 6,700 participating hotels in 130 countries and territories," Marriott said in a statement issued this afternoon.
"Marriott launched on August 18 with the expectation that certain pieces, given an integration of this size with 110 million members, might take time and issues would arise," the company said in an emailed statement. "We've been quickly acting to meet the needs of loyalty members, and are excited to say that 100 percent of members now have the capability to combine accounts."

While changes to loyalty programs typically mean bad news for consumers, this overhaul appears to be a net benefit for pretty much everyone, no matter which program they'd been in before the tie-up.

"The new program will streamline how points are earned on hotel stays, simplify the number of 'elite tiers' for frequent guests, and lay out new rules on how you can redeem your points for free stays," Condé Nast Traveler reported in April. "So even if you've never really considered yourself a points obsessive or figured out how to turn your occasional stays into free nights in an overwater bungalow, now's a good opportunity to jump into the game."

Here's a closer look at some of the changes that officially went into effect August 21, 2018

How you'll earn points

Previously, Starwood Preferred Guest and Marriott Rewards members earned points in different ways—and that's no longer the case. Today, "all members earn 10 points for every dollar spent at all brands except Residence Inn, TownePlace Suites, and Element which earn five points per dollar spent and Marriott Executive Apartments and ExecuStay properties which earn 2.5 points per dollar spent," Marriott says. (Bulgari Hotels & Resorts, which is part of Marriott, isn't participating in the program.) Another upgrade: It's now possible to earn points for all on-property spending beyond just the nightly rate, meaning you'll get rewarded for spa, restaurant, and bar purchases, for example, as long as you bill them back to your room.

Changes to elite status
Marriott is also standardizing how frequent guests get elite status, which nets you increasingly rich perks depending on how often you stay. "Members now earn Silver Elite status after just ten nights annually, Gold Elite status after just 25 nights, Platinum Elite status after 50 nights, and Platinum Premier Elite status after 75 nights," the hotel company says. "All Platinum Premier members surpassing 100 nights and $20,000 annual spend will enjoy the highest level of personalized service—the popular ambassador program—along with all the other benefits in that tier."

How You'll Redeem Points
Redemptions are free from blackout dates, and Marriott has published an award chart showing the cost in points for free nights at properties worldwide. "Nearly 70 percent of hotels now require the same or fewer points for a free stay than before," Marriott says. "Further, members can save 25,000 points per night by redeeming for future category eight hotels priced in category seven until 2019."
Here's the latest Free Night Award Chart: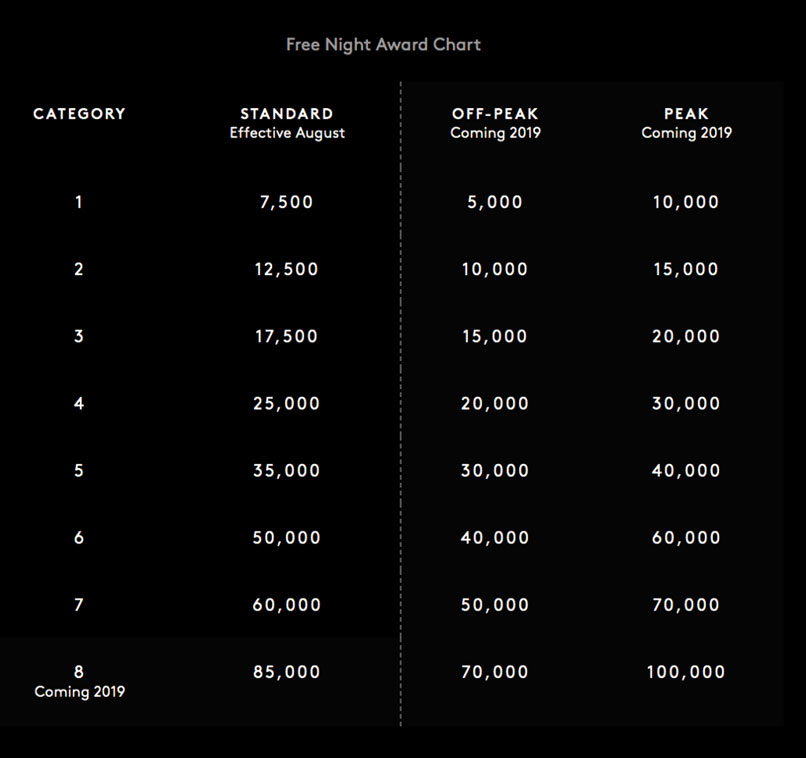 Other Membership Benefits
As part of the new tie-up, the Marriott Moments platform has greatly expanded, offering "access to the wide collection of nearly 120,000 irresistible experiences in 1,000 global destinations. … These range from destination tours and day trips to exclusive member-only events such as Super Fan Experiences during the Keith Urban Graffiti U World Tour, including autographed merchandise and backstage access; VIP access to sought after sporting events like the Super Bowl; music festivals like Coachella; and master classes with superstar chefs like Daniel Boulud in intimate settings." That six-figure total number of offerings is way, way up from the 8,000 options previously available—just one more sign that this combination of programs is—on balance—a win for Marriott, Ritz, and Starwood guests.