Hunter S. Thompson's Puerto Rican Rum Diary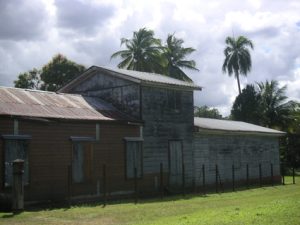 Hunter S. Thompson was 22 when he began work on The Rum Diary, a novel based on his own experiences working as a journalist in San Juan, Puerto Rico in 1959. Not published for another 30 years, the book chronicles the turbulent, alcohol-imbued times of Paul Kemp, a young American journalist working for a floundering English newspaper in San Juan. At the time, many Americans went to Puerto Rico in search of a piece of action in "America's Caribbean." The island was considered by tourism companies, developers and banks to be an undeveloped goldmine and suddenly, large sums of money were pouring in from all directions. The American journalists were there to report and, hopefully, to get caught in the currents.
It was a certain kind of journalist that was drawn to this situation. Puerto Rico was like another West, where people dreamt of staking out a piece of paradise and getting rich. Young Hunter S. Thompson tried to get a job at The San Juan Star, but was rejected by the editor, William Kennedy, who went on to become a successful writer and recipient of the Pulitzer Prize for his novel, Ironweed. (Despite rejection, the two remained lifelong friends.) Still desperate to get down to San Juan, Thompson accepted a more dubious position at El Sportivo, a fledgling English weekly about sports, and relocated in 1960.
Mirroring Thompson's experience, Paul Kemp arrived at a newspaper that was like a sinking ship. Despite the money floating around San Juan, the Daily News was on a destructive path to bankruptcy, heralded by its clan of disgruntled, volatile, and boozy journalists. Kemp notes that while money was tight, rum flowed freely:
There was no shortage of free liquor for the press, because all hustlers crave publicity. No occasion was too small for them to give what they called a "press party" in its honor. Each time Woolworths or the Chase Manhattan Bank opened a new branch, they celebrated with an orgy of rum . . . In a good week we would hit three parties and average three or four bottles for each half hour of painful socializing. It was a good feeling to have a stock of rum that would never run out, but after a while I could no longer stand even a few minutes at each party, and I had to give it up.
Hunter S. Thompson had front row seats to the American tourism boom in Puerto Rico and all the subsequent excess and corruption. It was also a clash of cultures as the rich Americans moved in on destitute Puerto Ricans. Ice was still a commodity, bringing in twice the price of a bottle of rum.
Today, the San Juan metro area sprawls for miles, at times resembling Miami with American chain stores, strip malls and shiny SUVs. The main tourist drags of the Condado and Isla Verde are long-established homes to Ritz-Carlton, Wyndham and Hilton. Yet the beautiful colonial district of Old San Juan is very much the same place where Paul Kemp regularly drank rum for breakfast, quarreled in bars, and tried to squeeze paychecks out of his broke editor-in-chief. Kemp's seedy journalist haunt, Al's Backyard, may not exist, but tourists can still walk through the narrow, cobbled streets and experience Thompson's descriptions of Old San Juan: the cool, morning breeze off the ocean, and the hot, stifling noon that continues until nightfall.
Several times in the book, Kemp walks up the hill in Old San Juan and looks out on the harbor for which Puerto Rico is named, mulling over this Boomtown of an island. He would have seen on the other side of the bay, the Bacardi distillery in Catao, and a popular destination for those arriving by cruise ship. However, Bacardi originated in Cuba and is not authentic Puerto Rican rum. Those seeking the real thing will have to catch a ride to the nearby city of Bayamon, home of Ron del Barrilito rum.
For almost 100 years, the same family has made the best rum on the island in the exact same spot. A visit to the Ron del Barrilito factory is like a trip back in time to the lost days of Thompson's Puerto Rico. The factory does not officially give tours but the owner and grandson of the founder, Manuel Fernandez, is happy to show people around the plantation grounds during business hours.
Ron del Barrilito's roots go back to the late 1700s when Fernando Fernandez was awarded a large plot of land in Puerto Rico by the Spanish government. He built a Spanish style villa, started a sugar plantation and distilled his own rum from the pressed sugar cane juice, storing it in great oak barrels for his family's consumption. The rum was so good that soon neighbors began dropping by the Fernandez household in order to sample some of the rum from the barrel (which translates to Ron del Barrilito). When Fernando Fernandez's son went to university in France, he discovered cognac. Upon returning to Puerto Rico, he invented a rum recipe that rivaled the best French cognacs and decided that now the neighbors had to pay for it. In 1915, Ron del Barrilito was born.
Off a busy freeway, the Fernandez plantation is only an eighth of its original size. Ron del Barrilito's offices are located in the base of an old brick windmill that once pressed sugar cane juice. The Spanish villa with its grand, sweeping staircase lies to one side of a termite-ridden wood building with a patched tin roof, home to the first distillery. A rare sight today, wooden houses constituted the majority of Puerto Rican homes in the fifties, but now, everything is made of concrete to withstand hurricanes. Across the grassy lawn punctuated by palms stands the Ron del Barrilito manufacturing plant and cellars. Only 11 employees work here, three of which are Fernandez family members.
Ron del Barrilito is a 'rectifier,' which means they do not distill the alcohol themselves. After prohibition, the local Puerto Rican government placed heavy restrictions on distillation in attempt to rein in the profligate rum-making going on in the island. Alas, this did nothing whatsoever to curb the moonshine. Caita, Puerto Rico's official unofficial rum, is just as popular today as it ever was. Only the commercial giants Bacardi and Don Q can afford to have distilleries, so Ron del Barrilito takes distilled alcohol from Bacardi and mixes it with ingredients and sets it to age in large oak barrels. Only the family knows this secret recipe of ingredients that makes Ron del Barrilito so good. It is not written down anywhere.
Ron del Barrilito's cellar contains rows of charred oak barrels containing 10-, 20-, 30-, even 40-year old rums. The barrels are stacked in a dark, two-story room that resembles an ancient wine cellar. The air is humid and mosquitoes are everywhere but it is this climate that makes one year of aging alcohol in Puerto Rico equal to three years in Scotland.
Of the many barrels, the oldest was corked on November 23, 1942 by Manue'ls grandfather, a staunch Puerto Rican nationalist. He decreed that this barrel–named La Dona or "The Lady"–would not be opened until Puerto Rico became an independent nation; on that day, it would be brought into Bayamon's town center and free for all to drink. Today, the rum continues to age in the barrel, its proof climbing to around 100.
In The Rum Diary, Paul Kemp swills rum over ice like water. Manuel Fernandez agrees that this is the best way to drink his rum, perhaps with a twist of lemon to bring out the flavors. He abhors the notion of mixing it with Coke but patriotically allows the occasional pina colada (the Puerto Rican national drink) for especially hot days.
Hunter S. Thompson's manic alcohol-fueled stint in Puerto Rico only lasted nine months before he decided to pack it in and head back to New York City. From that distance, he began writing The Rum Diary, hoping to do for Puerto Rico what Hemingway did for Paris. The book is often called his long lost novel because of the stretch of time between the manuscript's completion and publication; though some might argue it is because of its subject, a long lost Puerto Rico.
This article was written by Emma Stratton care of the Literary Traveler.
Ron del Barrilito Distillery
Note:
The Pina Colada was invented in 1954 by a bartender at the Caribe Hilton named Ramon Monchito Marrero. It took 3 months for him to reach his goal of capturing all the flavors of Puerto Rico in a glass. As good as the drink is, he did not prosper financially.
For information on traveling to this locale and or additional information on this or any other article please contact us
here.
Or call tel: +1. 305.445.7791