Where to Eat at Miami International Airport (MIA)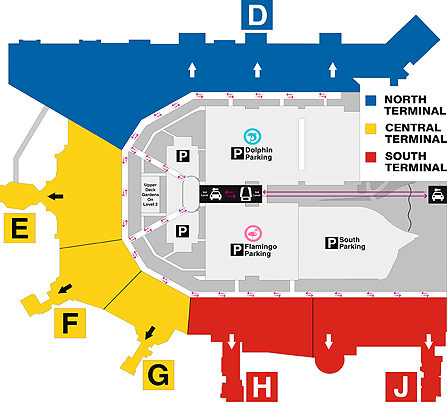 Although Anthony Bourdain recently said MIA doesn't suck as badly as some other airports, the foodstuffs there isn't exactly gourmet. That being said, there are a few gems out there if you happen to be passing through Terminal D. All of the decent eats are located past security, which could be the only good thing about that super saver airfare that has you connecting through Miami and seventeen other cities before you reach your destination. Alas, a light at the end of the terminal.
Terminal D's Five Standouts
1) Beaudevin: This 42-seat wine and cheese bar based on the one in the Brussels airport is a swell place to swill while waiting for your most likely delayed flight.
[Terminal D, Gate D24 North Terminal, post security]
2) Cafe Versailles: There's nothing like a shot or ten of Cuban coffee at Versailles after a long haul or, if you're one of those who likes to yap to strangers next to you the whole way there, before a long haul. Cuban sandwiches and lots of clamor en Espanol reminds you that you're not in Kansas anymore, if but for a few hours. And, if the line's too long at this one
[After checkpoint, Terminal D, Gate D21 North Terminal], there are two others [Gates D5 and D44].
3) Lorena Garcia Cocina:Her investment in America's Next Great Restaurant may not have been the wisest, but Lorena Garcia's investment in MIA (or vice versa, rather) has proven to be a pretty worthy one, serving 'sensible, Caribbean' cuisine to the mass transit masses.
[After checkpoint, Terminal D, Gate D53 North Terminal]
4) Icebox Cafe: South Beach brunch and bakery staple set up shop at MIA to satisfy the sweet tooth of bitter air travelers.
[After checkpoint, Terminal D, Gate D8 North Terminal]
5) Sushi Maki:The express version of the Coral Gables, South Miami, Kendall and Brickell mini-chain gives you a delightfully raw deal en route to or from your destination. Cooked faves include Kobe sliders and sushi tacos. Sushi Maki
[After checkpoint, Terminal D, Gate D29 North Terminal]