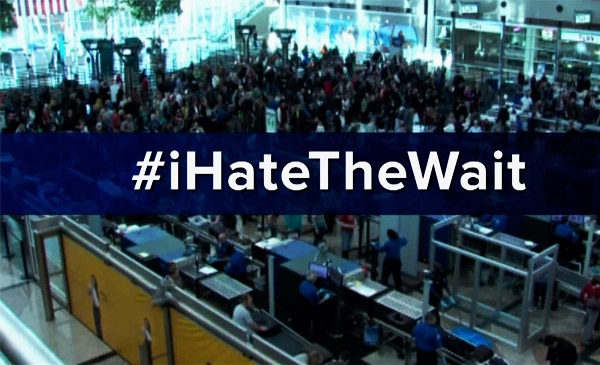 TSA Lines: Why They're So Long, and What You Can Do About It #IHateTheWait

TSA Lines: Why They're So Long, and What You Can Do About It

With travelers increasingly frustrated, the Transportation Security Administration has finally spoken.

Long lines at airports are nothing new. Yet in recent weeks, understaffing, heightened periods of travel, and stricter security measures have created a perfect storm and brought the issue to a boiling point: Port Authority has threatened to replace the TSA with private contractors, and airlines have spoken out on behalf of the traveler. There's even a designated hashtag—#IHateTheWait—and viral videos of passengers stuck in long lines, and at airports overnight. Now, the TSA is finally addressing the issue

For information on traveling to this locale and or additional information on this or any other article please contact us

here.

Or call tel: +1. 305.445.7791

At a recent press conference at Ronald Reagan Washington National Airport, Homeland Security Secretary Jeh Johnson said that TSA officials would take aggressive steps to curb longer waits, which have risen to nearly two hours in some airports across the country. Specifically, Johnson unveiled a ten-point plan that includes hiring more TSA officers, paying more overtime, increasing the number of canine teams, and using airline workers to handle non-security functions at the checkpoints. It's not all just empty promises: Congress recently approved the TSA's request to move $34 million between its accounts, which is key in allowing the agency to expedite the hiring of 768 new officers by June 15 and pay 42,500 officers overtime. The TSA also says it has reassigned 28 teams of bomb-sniffing dogs from smaller airports to those with the worst lines across the country. Its ten-point plan for reducing airport wait times is as follows:

1. Maximizing the use of overtime for TSA officers to meet checkpoint demands
2. Expediting the hiring of more TSA officers
3. Deploying additional K-9 teams to screen passengers
4. Allowing Federal Security Directors at airports to use "increased flexibility" in providing additional trained TSA staff for screening
5. Developing specific plans to alleviate wait times at the nation's busiest airports
6. Reducing the size and number of carry-on luggage
7. Asking airlines for help in non-security tasks, such as moving bins
8. Increasing research and development in technology to increase passenger flow
9. Encouraging air travelers to sign up for TSA PreCheck
10. Working with Congress to get additional resources for the TSA

Despite the proposed changes, Johnson said there will still be wait times. "Our task is not only to keep passengers moving but to also, and most importantly, keep passengers safe," he said. "In this, we cannot and we will not compromise the security of aviation or the American people. Recent events across the world confirm the continued need for vigilance when it comes to aviation security. In this environment, we will not compromise aviation security on behalf of the people we serve."
So true! RT @jeannewmanglock: #iHateTheWait The serenity of traveling @Amtrak. Sunday AM. #travel #DC pic.twitter.com/SfrqTWqEIm

— debra cincioni (@MomsofAmerica) May 19, 2016
To be sure, the TSA's public, uphill battle isn't helped by its employees jumping ship: TSA Administrator Peter Neffenger reported that nearly one-fourth of the part-time TSA workforce and nine percent of the full-time officers leave each year. Couple that with stricter security measures in the wake of terrorist attacks in Paris and Brussels, summer flight fares hitting a seven-year low, and an eight percent increase in passengers traveling by air, and critics say it's too little, too late.
Instead, officials have urged the agency to treat the problems instead of the symptoms, noting that there are deeper issues with the agency's training and management, and that "the problems at checkpoints across the country are complex and not easy to resolve." In an interview with USA Today, Ross Feinstein, a spokesman for American Airlines, said 6,800 American customers alone had missed their flights due to security waits during the spring break period. And while that was months in the past, Feinstein said it's given pause to travelers going forward. "The concern is that spring break repeats itself every week during the entire summer," he said. Only time will tell.
The TSA's struggles continue, as wait times at airport security reach three hours in some cities.
As more and more travelers take advantage of some of the lowest airfares in recent history, airports across the country are feeling the squeeze. TSA lines have reached waiting times of up to two hours in some cities, and airlines have even encouraged travelers to post photos of said lines using the hashtag #IHateTheWait in the hopes of spurring change. While it's a discouraging state in most airports across the country, to be sure, Chicago seems to have it the worst: A traveler's video of a security line at Midway went viral and has been viewed more than two million times; and last night, some 450 American Airlines passengers were stranded at Chicago O'Hare because they couldn't get to the gate on time. In its news story, the Chicago Sun-Times even quipped that O'Hare Airport was becoming "Oh Wait" Airport.
"Got here two-and-a-half hours before my flight and security took two to three (hours) to get through," Kevin Revis, a stranded traveler, told Chicago's ABC 7. Another, Adnan Ahmed, said, "I'd never seen this before. Completely unexpected." Around 9:30 p.m., airline officials set up cots and blankets for travelers who had missed their flight.
It's hardly an isolated incident: From May 8 to May 15, an additional 795 people missed American flights at O'Hare, the nation's second-busiest airport, due to the TSA line delays. American Airlines spokeswoman Leslie Scott said it's gotten so bad, the airline will begin hiring its own workers to assist at checkpoints at O'Hare, where they will hand out bins and remind passengers to remove their shoes and electronics to free up TSA agents for screening. The move is unprecedented for American, she said, but so are the lines. "We're trying to come up with solutions," said Scott. "It's frustrating, obviously for our passengers but also for employees who are doing all they can to get flights out on time." United Airlines has also hired more help in Chicago, and is in the midst of its second wave of hires. "It's an investment in our customers because these wait times are unacceptable,'' said United spokesman Charles Hobart.
---
5 Things the TSA Could Learn From Other Countries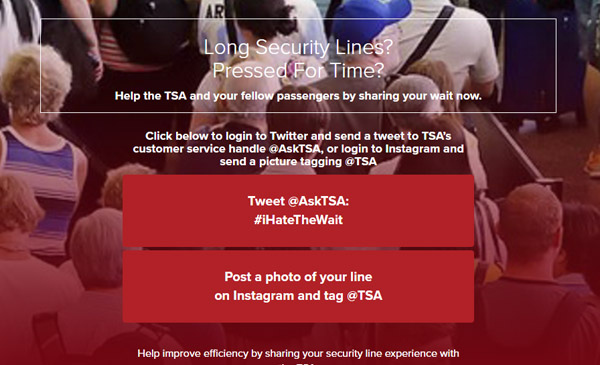 Airport security checkpoint lines don't have to be miles long.
The mess at the nation's airport security checkpoints has now officially entered crisis mode, and airline and government officials are desperately seeking a quick fix. The latest panacea, from Senators Richard Blumenthal (D-Connecticut) and Edward Markey (D-Massachusetts), is that airlines should waive baggage fees for the peak summer travel season. In theory, that would lessen the workload on screeners overwhelmed not just by people, but by the gear they're lugging through the checkpoint to avoid paying checked bag fees.
True, this one has a certain populist appeal—and it could be swiftly implemented, unlike the most logical fix, which is to hire and train scores of new screeners. But it was quickly shot down by the airline industry, which issued a statement through its association, Airlines for America, that waiving the luggage fees would only force them to raise ticket prices. While that might sound disingenuous, there's no hard evidence the bag fees are really at the root of the problem. TSA's checked baggage screening system can break down, too—witness this week's meltdown at Phoenix Sky Harbor Airport, when 3,000 bags missed their flights when the system crashed.
Some longtime industry observers say we should look to other countries for some ideas. Indeed, having flown through several airports in northern and central Europe recently, I was struck by how efficient and fast-moving most of the checkpoints were—even with the heightened security measures that took effect after the Brussels attacks. Some of these ideas are already being pursued by individual airports and airlines in the U.S.
MONITOR—AND PUBLISH—WAIT TIMES IN REAL TIME
Getting an accurate picture of what you'll face at the terminal could help passengers prepare, and could cut down on the number of missed flights. The technology exists—airports like Oslo's, for example, has a webcam showing lines at security and continuously posts and updates wait times. A few terminals in the U.S. are moving in that direction, such as JFK's Terminal 4, which is run by an affiliate of Amsterdam's Schiphol Airport, where a Wi-Fi– and Bluetooth–enabled system tracks fliers' progress through the checkpoint lanes, with the resulting wait times posted on screens in the check-in lobby. However, the information can't be accessed in advance—not yet, at least.
INSTALL AUTOMATIC BIN-PUSHERS
The fact that TSA still manually shuffles those plastic bins that carry our stuff through the X-ray machine astonishes our counterparts overseas, who long ago saw the benefits of automating this function. In fact, after I wrote about my stint as a volunteer bin-pusher for CNT, readers from abroad wrote in to take the U.S. to task for ignoring this very simple solution to bin gridlock. Systems like Singapore's are a good model, especially when coupled with advancing scanning technology. The message may be getting through: Atlanta's Hartsfield–Jackson Airport is going to test an automated bin system in the coming weeks.
EASE RESTRICTIONS ON LIQUIDS
The European Union has been gradually lifting restrictions on liquids in carry-on bags—one of the major sources of agita at TSA checkpoints. However, the original plan to get rid of the rules altogether by 2016 has been delayed; new detection technology may help speed things up again.
INCREASE USE OF EXPEDITED SECURITY
TSA's plans to boost participation in its PreCheck expedited screening program have faltered, in part, because it requires a personal appearance for fingerprinting and checking documents. Initially, airlines were able to get expedited treatment for their customers without this step. Some other countries use the latter approach effectively; in Norway, for example, a Fast Track system lets premium fliers zip through and most airlines, like Norwegian, will allow discount fliers to add this perk for a nominal fee. When I used this lane recently in Oslo, the line at first seemed quite long—but it moved very swiftly and I went through security in about five minutes.
BRING IN MORE PRIVATE PARTNERSHIPS
Europe's airports have long handled security with a private companies under government oversight. Experts say this could give individual airports more flexibility to schedule staffing to match demand, and to acquire new tools without going through a cumbersome bureaucracy. Some major airports, including LaGuardia, Newark, and JFK, are looking to do just that.
---
Authority May Replace TSA to Improve Airport Wait Times
As wait times continue to increase, so do complaints, which is causing some airports to look outside the TSA for help.
Waiting at the airport is a foregone conclusion. We wait to check our bags, we wait to print our tickets, we wait to go through security, we wait (and pray there's still room in the overhead bin) to board the plane. And unfortunately, the amount of time we wait continues to increase. This summer, during peak travel months, epic lines are predicted to be the rule, not the exception. In fact, it's already happening: according to the Port Authority, wait times at JFK were up 82 percent between mid-March and mid-April. It's all thanks to a combination of factors: reduced budgets, new procedures, fewer Transportation Security Administration (TSA) screeners, and the fact that travel costs are at a seven-year low, which means more people looking to fly.
Of course, all this waiting leads to missed flights, which in turn leads to more complaints. But it's not just passengers who are fed up: the Port Authority of New York and New Jersey are adding to the growing voice of dissent. In a letter to the Transportation Security Administration, the Port Authority cited "the continuing inadequacy of TSA passenger screening services" as one of the reasons why they are considering replacing the federal aviation security agency at LaGuardia, Newark, and JFK airports with private contractors. This type of privatization has already taken place in 22 airports around the country. Similar plans are currently being considered in Atlanta and Seattle, but none would be in place in time for the summer travel season. The TSA has said they are working to reduce wait times, but if you have a flight booked this summer, better give yourself an extra hour—or two—at the airport.