Finding a Seat That Fits on a Flight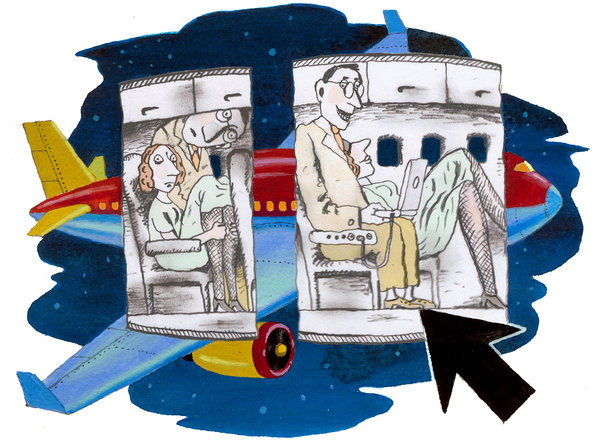 For travelers who are taller or broader or heavier than the average American, who have had their knees bashed, heads bonked and hips squeezed on flights from coast to coast, a little relief is in sight.
No, airlines are not reconfiguring planes. But it is becoming easier to find the best possible seats but also by seat width, legroom, quality of aircraft and conveniences like Wi-Fi and power outlets.
For years, we have been discovering the roomiest seats farthest from the bathrooms, which you can do with a cursory glance at the site's color-coded airplane maps: green for good seats, yellow for potential drawbacks like misaligned windows or restricted legroom, green and yellow for mixed reviews, red for bad seats. Sortable comparison charts for long-haul and short-haul flights enable you to easily see which airlines have the widest seats (Air Canada, British Airways, Asiana Airlines, Aeroflot at 20 to 21 inches for long-haul economy flights) and the narrowest seats (ANA, AirAsia X and Air Vanuatu at 16 to 16.5 inches). You can check out which airlines offer the most legroom (United, American Airlines, Thai Airways) and the least legroom (there are too many to list) in a column labeled "seat pitch." And you can look up which planes have laptop power and Wi-Fi, as well as the type of video available on board.
Seat maps continue to be the main draw. A recent search for a direct flight to Berlin from Newark in late August turned up a $1,306 fare on United Airlines with "tight" legroom. The G-Factor was "like it." For the same dates, a flight to Berlin from Kennedy Airport with one stop each way turned up a $1,538 fare on Delta that had a "love it" G-Factor. That flight had a stop, was more expensive and didn't have better seats (they were listed as "tight" legroom as well), yet Delta had a higher TripAdvisor rating than United. In other words, keep in mind that when using G-Factor, you might love what it loves — or you might not.
G-Factor, as one might expect, has competition. A new site called Routehappy.com is striving to stand out by allowing users to filter flight search results by "happiness factors." The site, which is intuitive and easy to use, allows you to search for a flight and then narrow your results by nonstop routes, time, airlines, airports, flights that are "happy and cheap" or "happiness factors" — which you can filter even further by clicking boxes for "nicer planes," "roomier seats," "high flyer rating," "Wi-Fi," "best entertainment" and "in-seat power."
Control freaks, rejoice. After a recent search for a flight to Chicago from Los Angeles in late August, I winnowed the results by clicking "roomier seats," and flights with more pitch and width (like Virgin America, United and US Airways) rose to the top of the page. When I added filters for nonstop flights as well as "in-seat power," Virgin America was the only airline left standing.
Like SeatGuru, Routehappy is a search site, not a booking platform. So if you like what you find, you'll have to book it directly with the airline or an online travel agency.
Those familiar with this breed of site may also know that a big player in this space, Hipmunk.com, has been around since 2010 and allows users to sort flight search results by "agony" factor, a combination of price, number of stops and duration. After searching for a flight, you can sort the results by agony or by other individual factors like arrival, departure, duration and price.
If your primary goal is to make your flight as brief as possible, the Danish flight search site Momondo.com rates routes on a scale of 1 to 10 based on price and average flight time. The best scores receive green smiley faces. The worst? Red frowns.
So what if you've already booked a flight and every decent seat is occupied?
You can avail yourself of a seat-tracking app. Unfortunately, these services do not enable you to actually book a seat when it becomes available — they simply alert you to that fact. It's up to you to then call your airline or use its Web site to nab the seat before some other long-legged passenger does.
One such tool is Seat Tracker, a new feature from TripIt Pro, the popular trip organization app and Web site. To use Seat Tracker, you must be a TripIt Pro member ($49 a year, though the Web site offers free 30-day trials). Members simply log into the site and create an alert for a future flight, then select their criteria, like a window, middle, aisle or "aisle or window" seat as well as their desired area of the plane: ahead of the wing, over the wing, behind the wing, in the exit row or by the bulkhead.
You can also request up to four seats together. If the seat or seats you want become available, TripIt will notify you with a text or e-mail message and tell you how to contact the airline or booking agent to change your seat. Information: tripit.com/seattracker.
If you don't want to pay for a seat alert, there's ExpertFlyer. A basic membership to the site, which specializes in helping frequent fliers maximize their miles and elite upgrades, is $4.99 a month; a premium membership is $9.99 a month. But you can sign up for one seat alert at a time free of charge (additional alerts are 99 cents each if you do not have a monthly membership). An iPhone and iPad app enables you to manage your alerts wherever your travels may take you. Information: expertflyer.com/free-program.
Drawing by:
BORIS KULIKOV
NYTimes By STEPHANIE ROSENBLOOM
For information on traveling to this locale and or additional information on our strategic approach to travel management and corporate travel management (CTM), leisure travel and or any other article please contact us
here.