Archive for the 'Asia' Category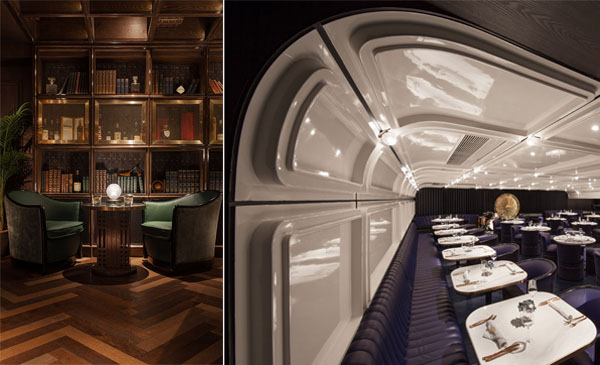 Secret bars are nothing new, of course, but very few have mastered the quirky yet elegant style of the newly opened Foxglove tucked away on Duddell Street, at the heart of Hong Kong's Central district.
From the team who bought us the cooler-than-thou Mrs Pound, Foxglove, is a 1950s-style watering hole serving up classic cocktails. The speakeasy-style lounge bar read more
---
When they collide, which will prevail?
As it turns out, it's no contest. A reader writes about what played out at this year's Carnaval: We doubt that the same joie de vivre is possible in a TSA-sanctioned environment.
This video touches on two of your themes: airport security and cross-cultural differences. It's a bloco, or parade dance party, at Santos Dumont the city airport for Rio de Janeiro. Minute 1:30 to 2:00 has the best sambaing.
A reader who travels very frequently in and out of China's main airports was in Beijing Capital airport today. He sends a shot of the security line a few hours ago at what is now the second-busiest airport in the world.
A reader writes,
"Greetings from Beijing Airport! Last year I sent you a photo of the TSA equivalent and it's still so much better than TSA! You could say in software terms it's a much better UX! [User Experience.] Every time! "
What's your experience? We would love to know.
Original Article: theatlantic.com – James Fallows is a national correspondent for The Atlantic and has written for the magazine since the late 1970s. He has reported extensively from outside the United States, and once worked as President Carter's chief speechwriter. His latest book, China Airborne, will be published in May.
For information on traveling to this locale and or additional information on this or any other article please contact us
here.
Or call tel: +1. 305.445.7791
---
Sri Lanka's lush hill towns and pristine beaches have long appealed to a certain breed of worldly traveler, but the flare-ups of the country's brutal on-again, off-again 26-year civil war kept all but the most devoted of them away. The conflict ended three years ago, and as a prolonged peace finally takes hold, this Indian Ocean island is on the cusp of a tourism boom.
Sri Lanka's beach-lined southern coast, centered around the popular town of Bentota, is the country's strongest draw—and big developers are moving in. The Minor Hotel Group chose the area to debut its sister brand to Anantara with last month's launch of the 75-room Avani Bentota Resort & Spa (94-34/227-5353; doubles from $180) in a restored Geoffrey Bawa–designed building. A second Avani, a Six Senses resort, and a Shangri-La property are also in the works.
In the meantime, a handful of designers have opened boutique hotels, including the 15-room Villa Bentota (doubles from $224), the latest project from Sri Lankan tastemaker Shanth Fernando.
Farther south, in Beliatta, Hong Kong decorator Niki Fairchild has turned a century-old house into the glamorous five-suite Maya (94-47/567-9025; doubles from $170).
In the northwest, an ambitious government scheme aims to transform the Kalpitiya peninsula into the country's next big resort destination. Until those plans are realized, the laid-back Bar Reef Resort (94-777/352-200; doubles from $125) has airy cabanas and a quiet one-mile beach.
Perhaps the biggest peace dividend has been the reopening of the leopard- and elephant-filled Wilpattu National Park, in the northwest. Stay at the two-year-old Ulagalla Resort (doubles from $374), which has 20 thatched-roof bungalows on 58 acres an hour from the park.
—Jennifer Chen. More in series coming soon Courtesy of : Travel & Leisure
For information on traveling to this locale and or additional information on this or any other article please contact us 
here.
 Or call tel: +1. 305.445.7791
---