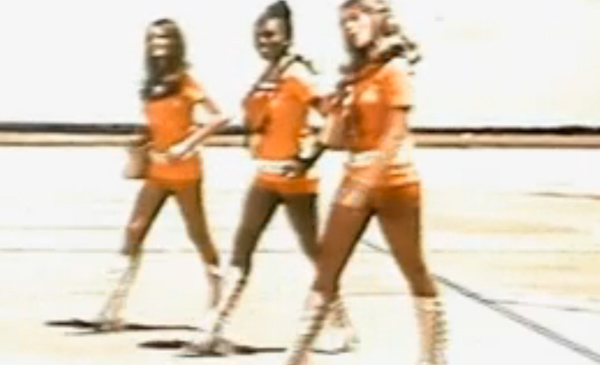 Prepare for takeoff with the world's silliest, sexiest, and tongue-in-cheekiest airline safety videos
Knowing in-flight safety procedures is obviously important—but who wouldn't want to get the lowdown from Betty White, Richard Simmons, or a pack of swimsuit models?
Savvy airlines know if you're going to explain how to buckle a seat belt for the umpteenth time, it's better to put an entertaining gloss over the same-old mandated speech. Getting a little social media buzz in the process, well, that's just a bonus.
We shall now observe a moment of silence for the golden age of travel, those madcap, Mad Men days when airplanes had piano bars and carved-at-your-seat chateaubriand, when the cabin crew was dressed by Emilio Pucci and the passengers dressed up too, when men were men and flight attendants were stewardesses. A recruiting ad from that time seems quaintly antediluvian: "To most passengers, their stewardess is National Airlines. So we are looking for young ladies who have a flair for making people happy, young ladies with just the right blend of friendliness, competence and poise." Quite a departure from Steven Slater, the irate JetBlue attendant who famously announced "I'm done" and fled down his plane's emergency chute last year, or the Slater manqué I encountered on a flight I took shortly after having rotator cuff surgery: I asked him to help put my carry-on in the overhead compartment and was told, "That's not part of my job."
Ready to be reminded where the exits are? Stay tuned for more tomorrow.
Including Air New Zealand, who has made no fewer than five themed safety videos as a way to stand out in a crowded market. The carrier's just-released latest was made in collaboration with Sports Illustrated in the postcard-perfect Cook Islands, garnering more than 2 million hits on YouTube in a few short weeks. Since October 2012, its slightly less sexy (unless you've got a thing for elvish ears) Hobbit-themed vid has attracted more than 11 million views.
American carriers are taking note. Virgin America enlisted Hollywood's go-to dance movie director and anAmerican Idol alum for a catchy-as-all-get-out number featuring 14 different dance styles that instantly went viral this past October.
Less-cheeky carriers like Delta are now stepping up. "By sprinkling in gags and switching up the videos every six months, we've found that our customers are more engaged," perhaps even enjoying the important messages, explains marketing communications director Mauricio Parise. Its latest, a blast-from-the-past overload of '80s nostalgia, is more fun than a Game Boy—or doing the worm down the aisle.
For information on traveling to this locale and or additional information on this or any other article please contact us
here.
Or call tel: +1. 305.445.7791