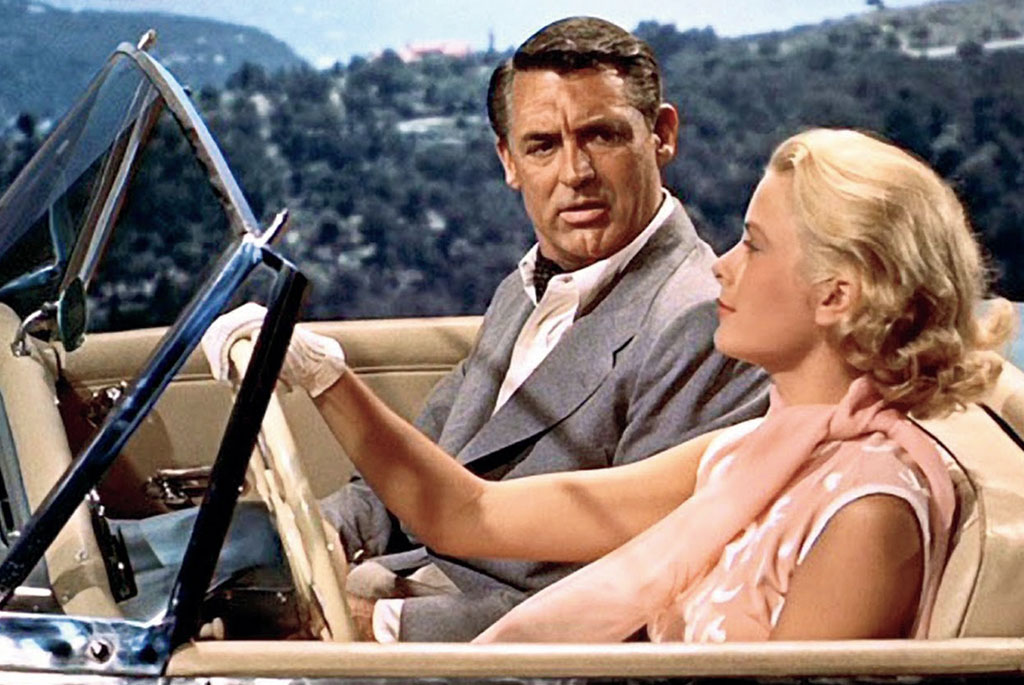 15 Best Travel Films of All Time

Get ready for some serious inspiration—and some serious binge-watching in a series of the "Best 50 Travel Films of All Time," here are the first 15.

It's arguable that, more than any other piece of pop-culture ephemera, movies have the power to transport—to sweep you away on a European adventure (Before Sunrise), cross an African desert (Out of Africa), even send you to the never-before-seen Paradise Falls (Up). These 50 films are especially captivating, with well-told stories that evoke the magic (or harsh reality) of travel, and beautiful scenery that overwhelms the senses. Read on for the favorite travel movies of editors past and present—and get your Netflix queue ready.

Roman Holiday (1953)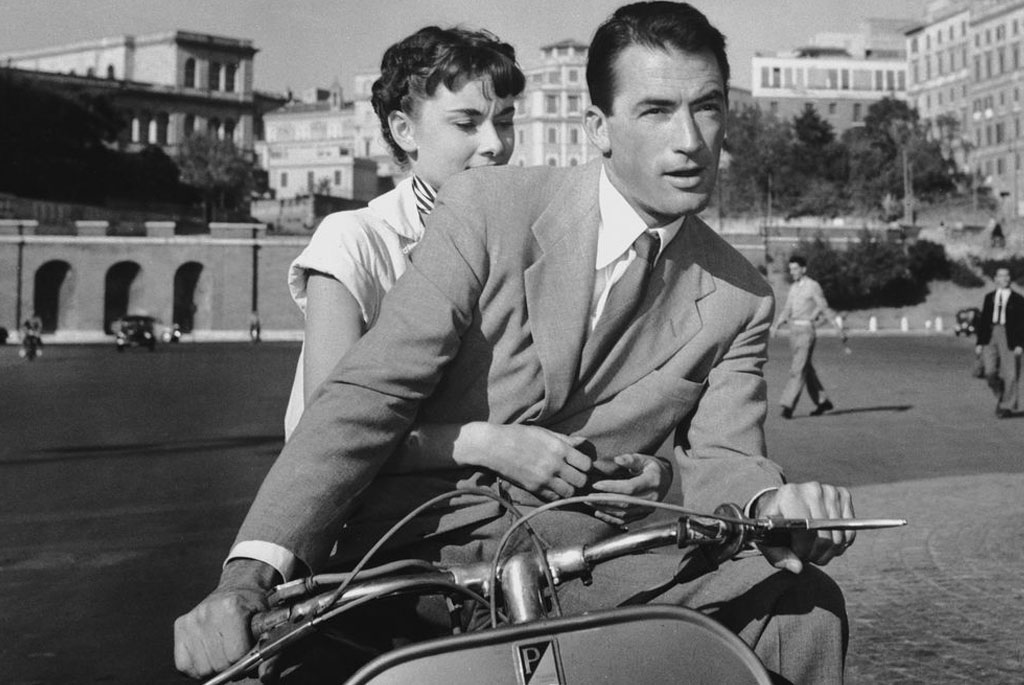 What's not to love about this black-and-white classic? It's got Audrey Hepburn, it's got Gregory Peck, it's set in Rome; there's a quirky, comical love story. Hepburn plays a princess in town for a goodwill tour, Peck a journalist for an American news bureau who misses his big interview with HRH. When he helps a young, seemingly drunk woman one night and lets her sleep it off in his apartment, he realizes he may have the scoop of his career as the next day's news reports say the princess has canceled her engagements due to illness. And then he pieces the two together. What follows is a grand romp, with Peck playing the regular joe and local guide to the princess, who just wants to shed the royal obligations and enjoy a little freedom for a change. Their tour of Rome proves the perfect catalyst for their budding romance, and it's impossible not to have the same effect on the audience.
To Catch a Thief (1955)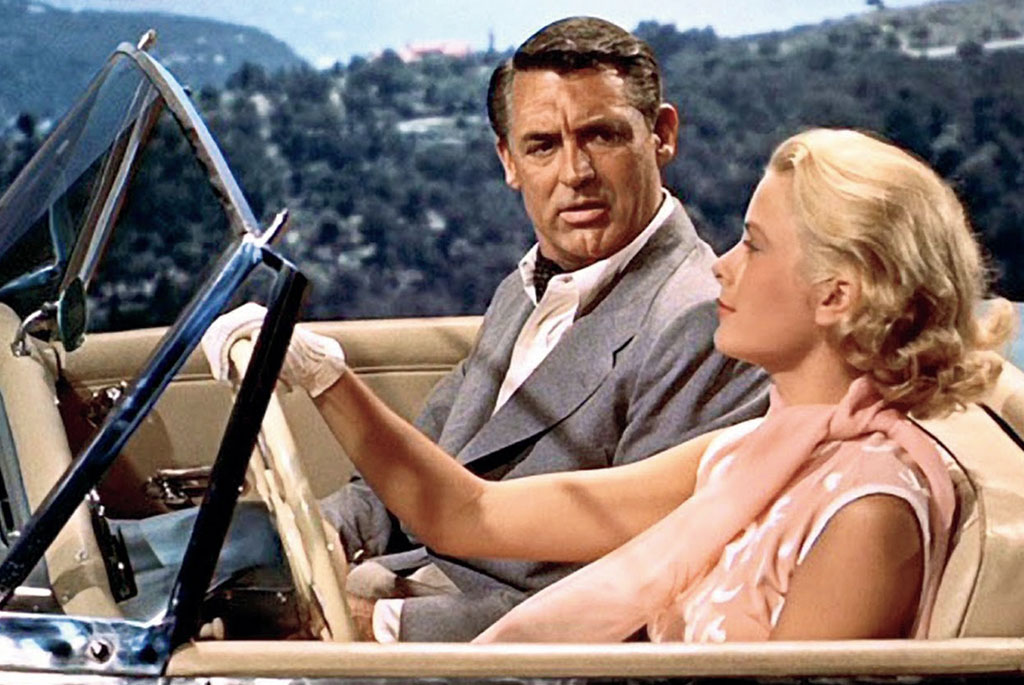 Cary Grant as a cat burglar, Grace Kelly as a rich debutante, falling in love under the guidance of Alfred Hitchcock? Sold. This stunning thriller was filmed in Cannes and Nice and perfectly captures the Golden Age of travel we always wax poetic about, that time when bringing a gold lamé gown to the beach was a no-brainer. –Meredith Carey
Doctor Zhivago (1965)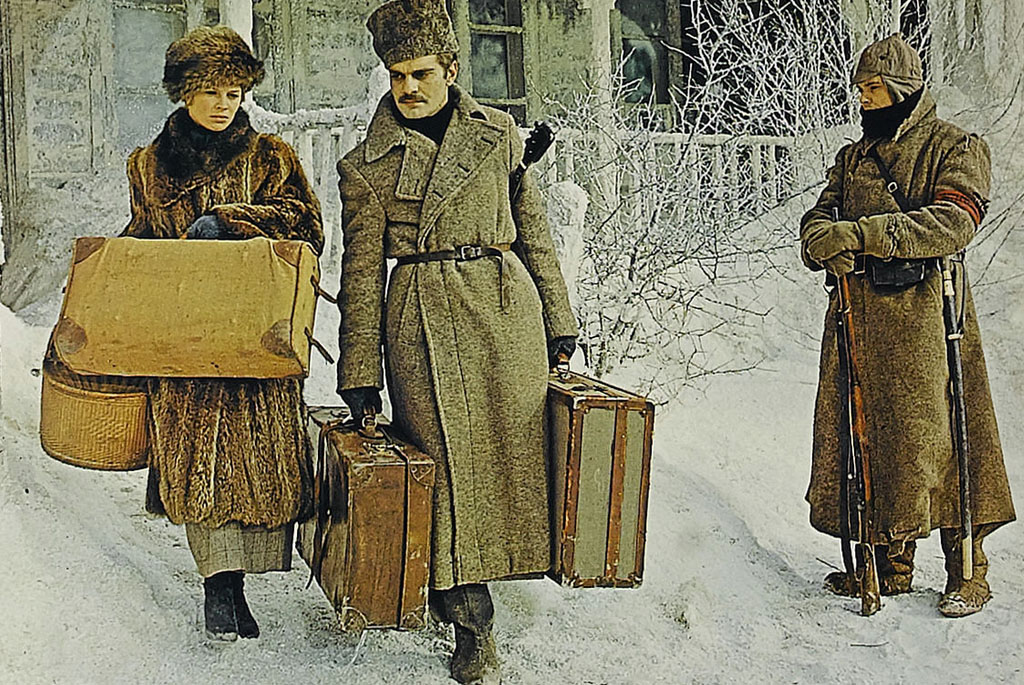 Russia during the Soviet Revolution doesn't exactly sound like a prime tourist destination, but director David Lean makes a big argument for the country's haunting beauty in this romantic epic (even thought it was actually shot in Spain). From the opulence of Imperial Moscow to the flowering countryside of the Urals to the windswept Siberian tundra, Lean's camera is as much as in love with the landscape as it is with Julie Christie's doe-eyed Lara.
The Endless Summer (1966)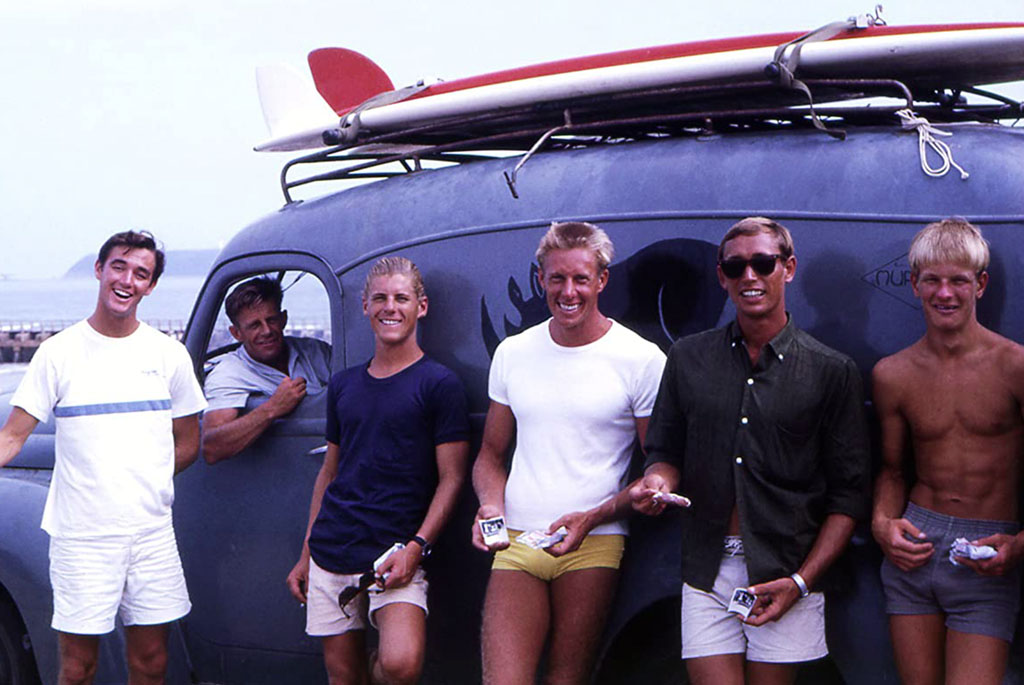 "Catch a wave and you're sitting on top of the world," sang the Beach Boys; and if ever a film embodied that mindset, it's Bruce Brown's 1966 surfer documentary. Brown shadowed buddies Robert August and Mike Hynson on a round-the-world surfing trip, filming their travels to places like Hawaii, New Zealand, and South Africa as they crested waves and met like-minded surf obsessives. The film's impact on surf culture and tourism was huge, thanks in no small part to Brown's cinematography, as well as the subjects' ability to make riding those impossibly large waves seem effortless.
Two For the Road (1967)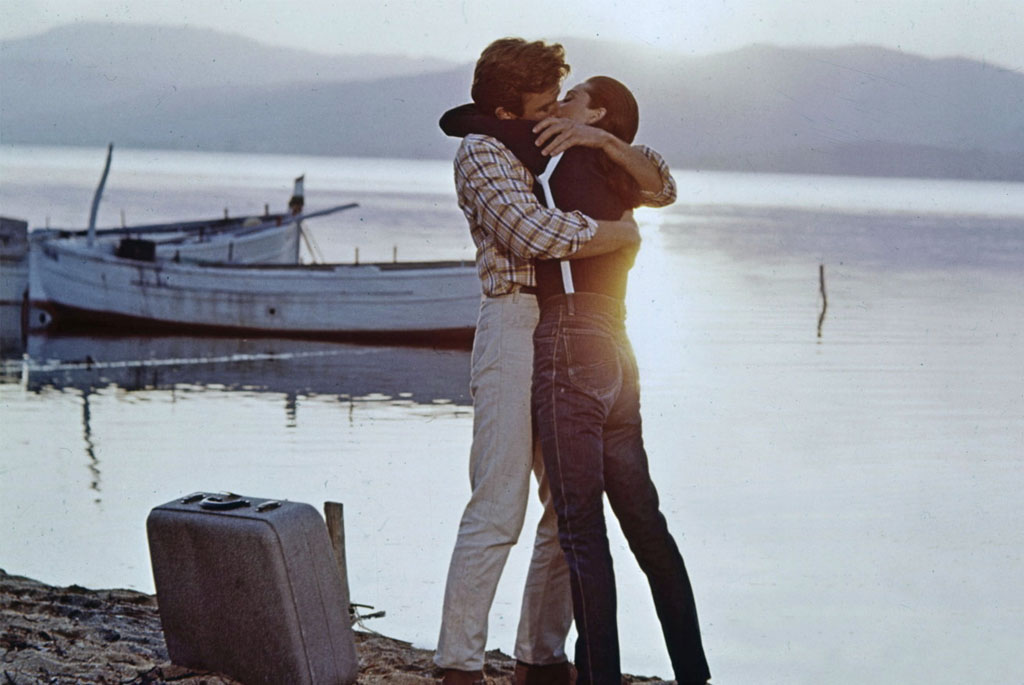 Travel is a constant theme in this romantic dramedy about a married couple, played by Albert Finney and Aubrey Hepburn. The movie starts off with a road trip to Saint-Tropez, and as they drive through France, the audience is treated to flashbacks of previous trips that have affected their relationship.
Easy Rider (1969)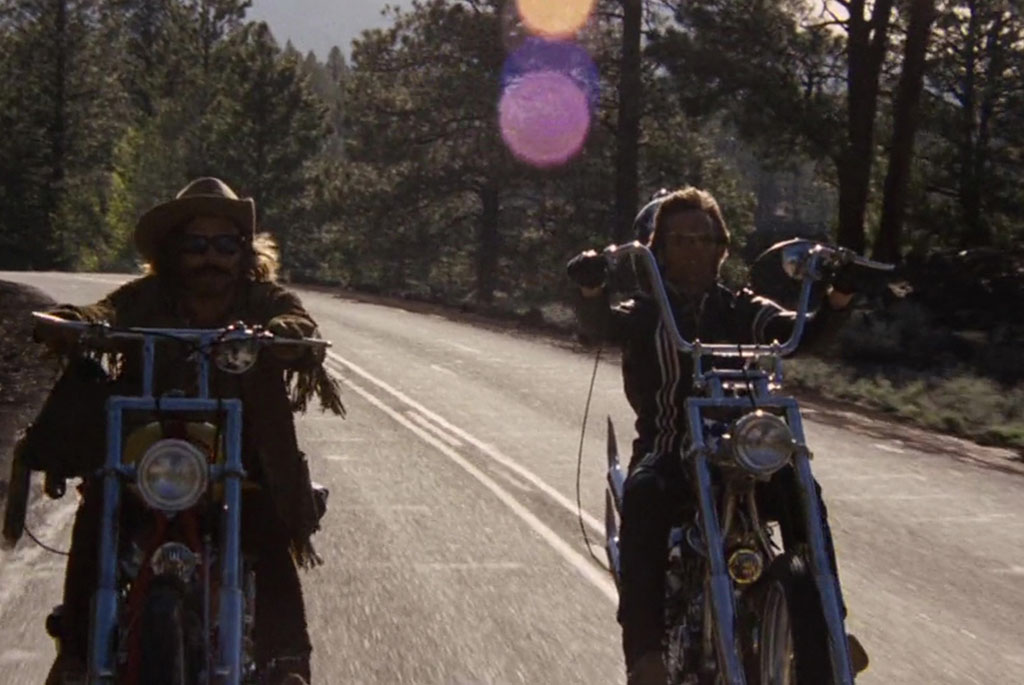 Released the year of the Woodstock festival—perhaps the biggest event of the '60s counterculture movement—Easy Rider couldn't have come out at a better time in history. The film plays out like a motorcycle travelogue, following Wyatt (Peter Fonda) and Billy (Dennis Hopper) on their sojourn from Mexico to Los Angeles to New Orleans. Shot on a shoestring budget, the film is flush with desert landscapes and towns that the pair of nogoodniks (and co-stars, like a young Jack Nicholson) pass through on their drug-and-booze-fueled hippie adventure.
Murder on the Orient Express (1974)

While the 2017 remake of Murder on the Orient Express was pretty to look at, you simply can't beat the 1974 original. The mystery boasts an excellent ensemble cast led by Albert Finney as Agatha Christie's iconic Belgian detective Hercule Poirot. He's minding his own business on the long-distance train when a fellow passenger is murdered in the middle of the night. Poirot agrees to investigate the murder, along with the train's first-class compartment full of characters, ranging from a Russian princess to a gorgeous young countess. Throw in the snowy Yugoslavian countryside, and train travel has never looked so glamorous. (Minus the murder, of course.)
Raiders of the Lost Ark (1981)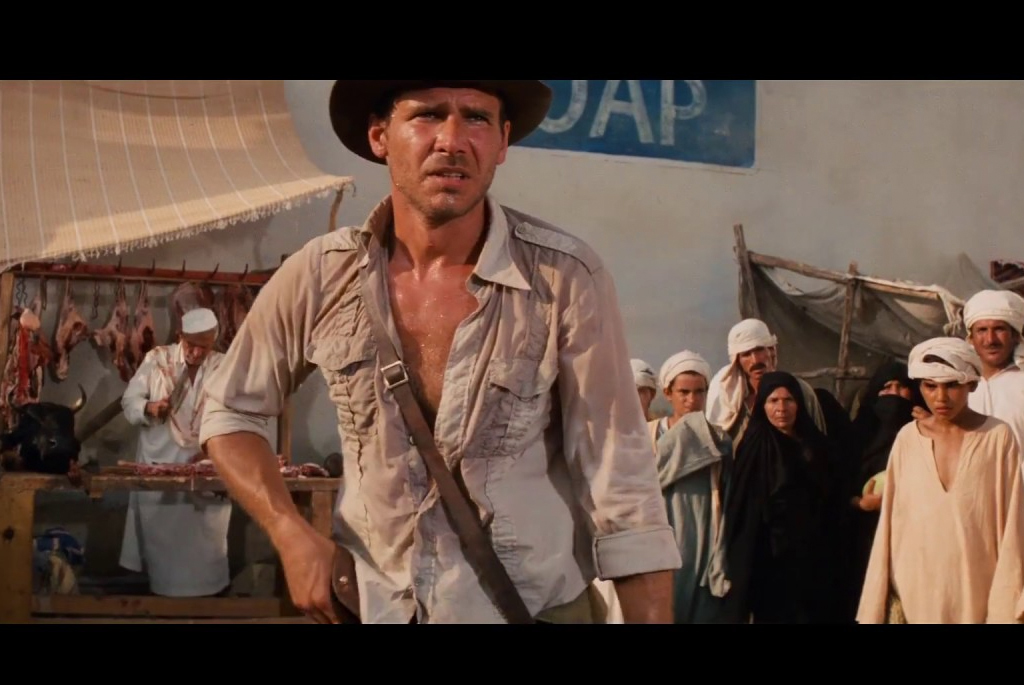 Raiders of the Lost Ark was a giant-sized collaboration between two of the world's biggest blockbuster directors at the time: Steven Spielberg (Jaws), who directed, and George Lucas (Star Wars), who executive produced. The film follows hunky explorer Indiana Jones (Harrison Ford) as he circles the globe on a quest to track down the legendary Ark of the Covenant before the Nazis do. With filming locations in France and Tunisia (which stood in for Egypt), Raiders is travel porn at its mega-blockbuster best.
National Lampoon's Vacation (1983)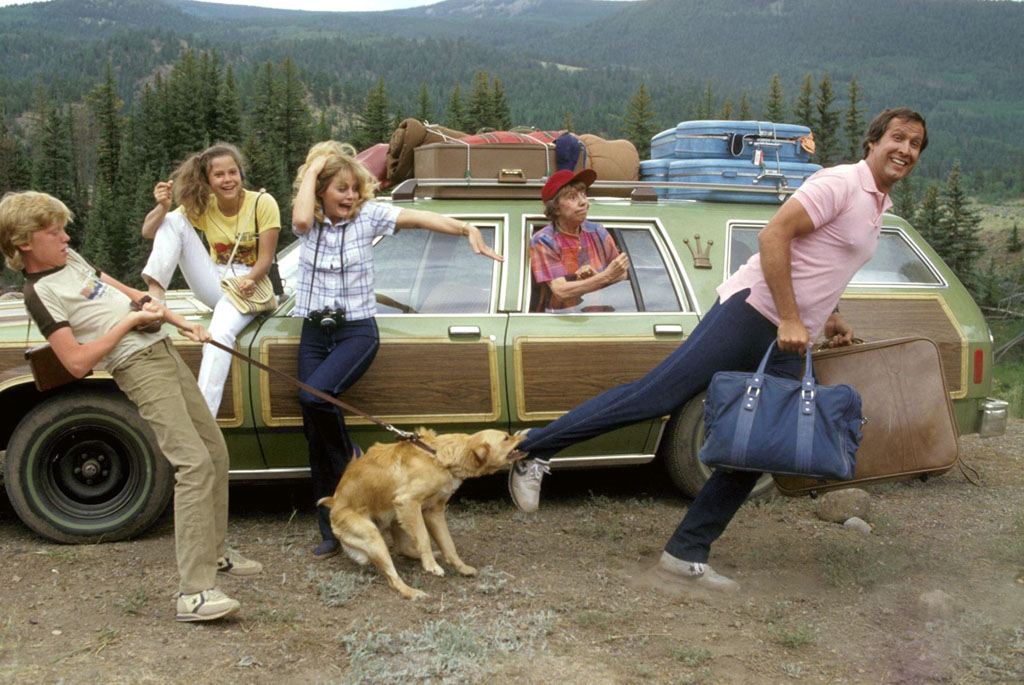 Vacation was the world's introduction to the Griswold family, led by accident-prone dad-in-chief Clark (Chevy Chase). The film spoofs the tried-and-true American tradition of the family road trip, taking the Griswold car through at least two real-life national parks—Death Valley and Grand Canyon—on their way to the fictional amusement park, Walley World. Add in an unforgettable cameo from Christie Brinkley and a hit theme song in "Holiday Road," and you have a movie every vacationer should watch once in their lifetime.
Romancing the Stone (1984)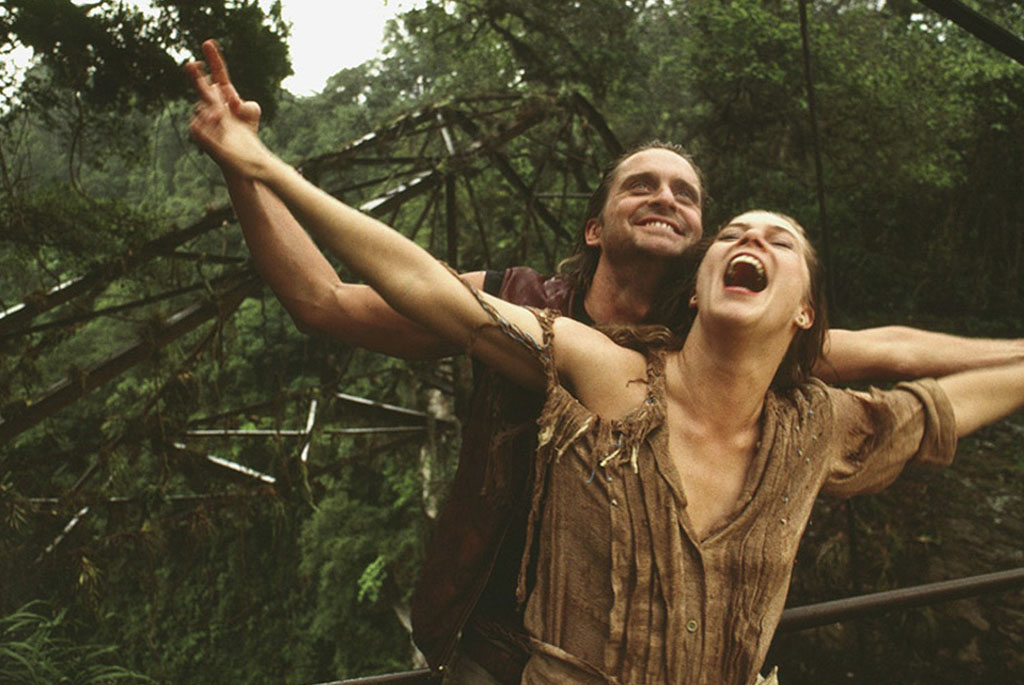 The '80s were the era of the action movie, but Romancing the Stone took that concept and blew it out, mixing in pinches of Indiana Jones and pulpy romance novel. Co-starring Reagan Era sex-symbols Michael Douglas and Kathleen Turner, the adventure begins when novelist Joan Wilder (Turner) travels to Colombia in search of her kidnapped sister.
Out of Africa (1985)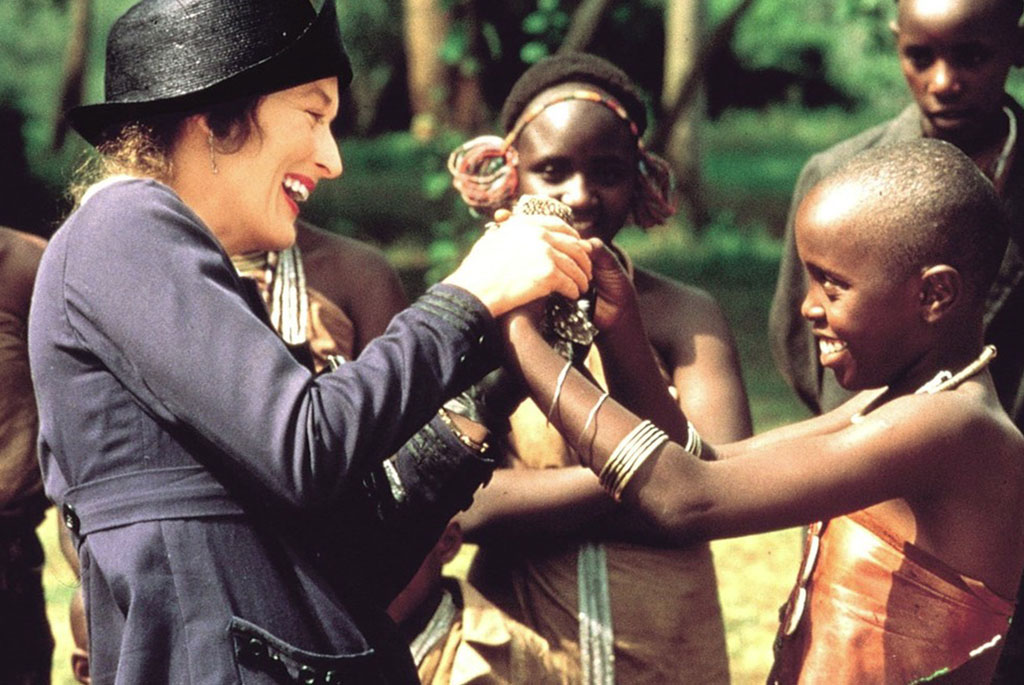 Meryl Streep and Robert Redford star in this tragic love story about a married baroness who falls for a big-game hunter, based on the autobiographical novel by Isak Dinesen. Filmed on location in the U.K. and Kenya, including the Shaba National Game Reserve, Out of Africa feels about as epic as the doomed love affair between two very different people.
Planes, Trains and Automobiles (1987)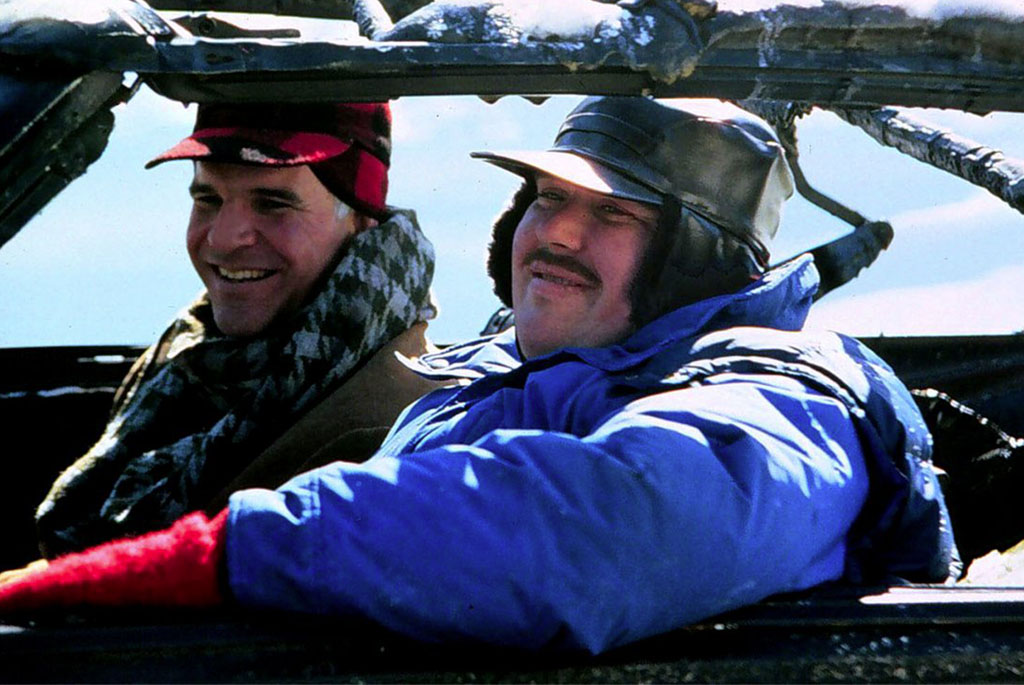 Set around Thanksgiving, Planes uses the travel rush in the days leading up to the holiday as a more-than-worthy comedic vehicle. Steve Martin goofs as Neal Page, who faces a series of travel nightmares on his trip from New York City to Chicago in advance of Turkey Day. After his flight is canceled due to inclement weather, Page ends up sharing his trip home with salesman Del Griffith, played by the late, great John Candy. The actors' chemistry is hard to deny… especially when they're sleeping in the same bed together on the road.
Withnail & I (1987)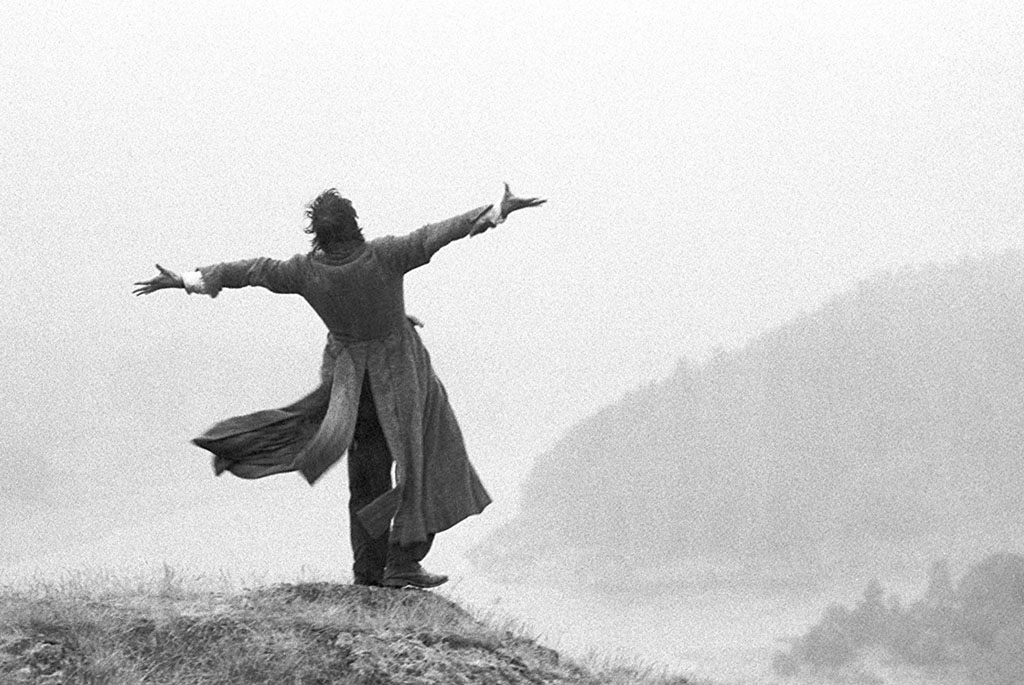 "We've gone on holiday by mistake!" Withnail's (Richard E. Grant) desperate moan is the centerpiece of this British cult comedy, which sees two hard-drinking, unemployed actors escaping the horrors of their impoverished London flat with a trip to the countryside. Naturally, the countryside turns out to be even worse. But the desolate, windswept beauty of Cumbria, in Northern England, is the perfect setting for their self-created drama and melancholy.
Thelma & Louise (1991)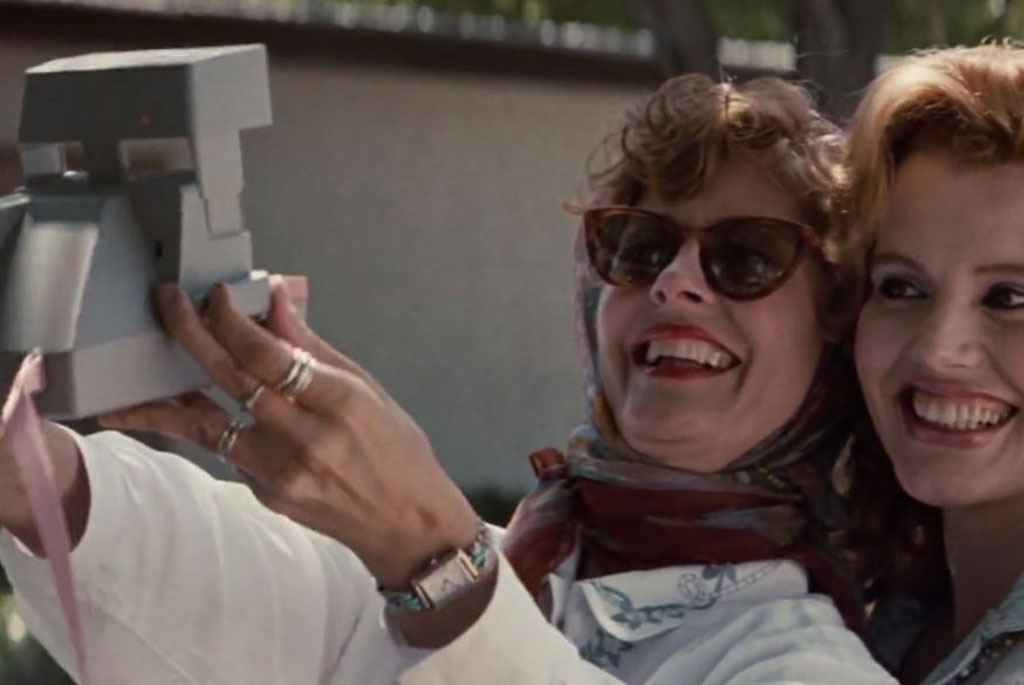 Thelma & Louise reinvented the concept of the buddy movie by putting two women on the road, escaping good-for-nothing men and setting off on an adventure of their own making. For the first time, women were at the center of the picaresque. Ultimately, Thelma and Louise don't get their happy ending, but the best coda is knowing their movie paved the way for countless other women to hit the road on their own.
The Adventures of Priscilla, Queen of the Desert (1994)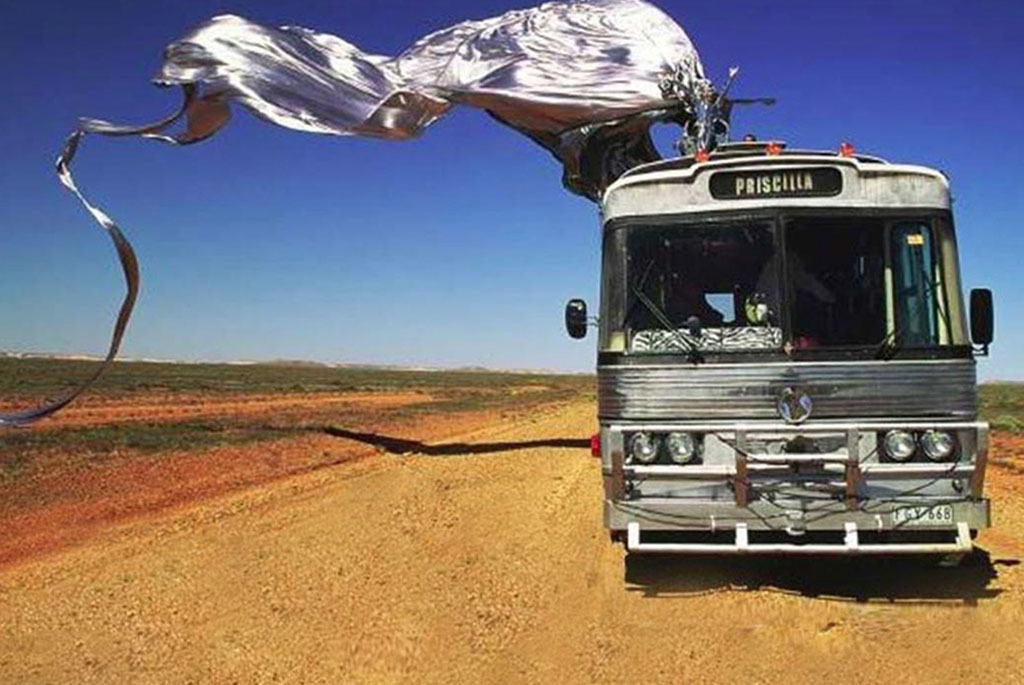 Guy Pearce, Hugo Weaving, and Terence Stamp star as two drag performers and a trans-woman who travel to Alice Springs, Australia, in a lavender-hued school bus they've named Priscilla. A road trip across the Outback serves as a dusty backdrop for personal revelations and general awesomeness, like a fireside lip-sync performance of Gloria Gaynor's "I Will Survive.
For information on traveling to this locale and or additional information on this or any other article please contact us
here.
Or call tel: +1. 305.445.7791